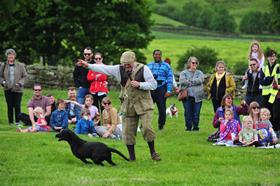 LEAF Open Farm Sunday will take place entirely online this year after organisers admitted defeat in their attempts to host a physical event.
LEAF announced ealier this year that the popular event would be postponed from 7 June to 20 September, but following discussions with host farmers, sponsors and supporters, the decision has been made that physical farm visits will not be possible.
'While there is the drive and enthusiasm to share our farming story with the public, there continues to be many concerns regarding hosting on-farm visits this year due to the continuing Covid-19 situation,' explained LEAF chief executive Caroline Drummond.
'After much careful consideration, taking into account farmer feedback and using other similar events and shows as guidance, we have taken the decision to cancel all face-to-face on-farm LEAF Open Farm Sunday events this September. We are all looking forward to welcoming the public back on farm next year on Sunday 13 June 2021.'
Following the success of LEAF Online Farm Sunday this June, Drummond said plans are being drawn up to promote more virtual farm tours during the weekend of 20 September 2020. 'This will be an exciting opportunity to showcase the tail end of harvest, drilling and autumn calving alongside many other aspects of farm life which the public may never get the chance to see,' she said, adding that further details will be revealed soon.