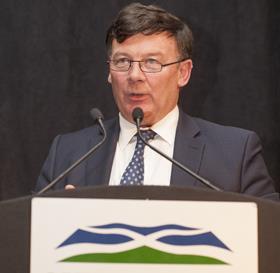 Like them, loathe them or tolerate them – UK retailers will always be the most important customer for what we produce.
There are some great examples of retailers going that extra mile to stock and promote Scottish produce and the union has been doing some in-store promotional work with Aldi on a range of Scottish food.
That in-store activity has been something that NFU Scotland members have become increasingly engaged in over recent years, taking the fantastic story we have to tell about the quality and provenance of our food straight to our customers. But while building good practice, we also need to stamp out bad practice.
The Groceries Code Adjudicator report into Tesco has exposed a culture, which is all too often ignorant of the pressures faced by suppliers and producers. The report highlights that the 'fear factor' remains and despite shoddy treatment and breaches of the grocery code, suppliers were reluctant to engage in dispute resolution for fear of further ramifications for their business.
While there have been widespread anecdotal reports regarding the attitude of Tesco and its buyers towards suppliers, I commend the GCA for producing a report that lays out in black and white the deep flaws at the core of how Tesco operated.
While this report merits an immediate apology from the retailing giant, of greater importance will be Tesco's own reaction and the changes to its sourcing policy that this report suggests is long overdue. Tesco must be sincere about its attempts to challenge its own internal culture.
Tesco will remain the most important purchaser of Scottish and British produce, but if the retailer is to regain credibility then wholesale changes to the way it builds its relationship with suppliers and producers must be on the cards.
In its first major investigation, the GCA has identified abject failings by the UK's biggest retailer in the way it treats suppliers. This excellent work only strengthens NFU Scotland's belief that the powers for the adjudicator must be strengthened, and her ability to examine the whole supply chain – not just the relationship between a supermarket and a processor – is necessary if we are to build trust and transparency from the farmgate to the shop shelf.
It remains a hugely difficult time for Scottish farmers in all key sectors, and NFU Scotland continues to work with other unions to encourage support for Scottish and British produce across retail and foodservice sectors.
Although only a few weeks into 2016, we need all retailers and foodservice firms to ensure their commitment to work with the farming industry goes beyond lip service and drives long term stability and profitability for producers.