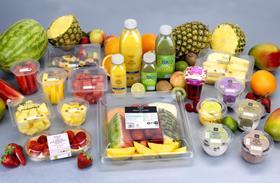 Prepared fruit specialist Orchard House Foods has secured a £21.73 million loan to support its growth, having been acquired by private equity fund Elaghmore in January.
The 'asset-based lending facility', provided by Secure Trust Bank, will enable the supplier to invest in new equipment and ongoing product development.
Orchard House Foods is a major supplier of prepared fruit, fresh fruit drinks and desserts, part of Hain Celestial Group. The company and its associated brands supply retailers, on-the-go food outlets, foodservice providers and manufacturers across the UK and Ireland.
Orchard House is headquartered in Corby, Northamptonshire with additional facilities in Gateshead, and has a client list includingMarks & Spencer, Sainsbury's, Greggs and Pret A Manger.
Despite the challenges posed by Covid-19, the business has remained profitable andsaid it iswell positioned to take advantage of the growth opportunities presented by the easing of lockdown and people returning to the workplace.
The loan from Secure Trust Bank follows the acquisition by UK private equity fund Elaghmore, which invests in companies with a view to driving organic growth. Its goal is to double revenue within the first five years of investment.
Having raised a £60m fund in 2016, Elaghmore completed a £30m top-up last year to invest in UK companies.
The private equity firm has previous experience in the global fruit market, having more than tripled the EBITDA of freeze-dried fruit producer Chaucer Food Group during its hold period between 2011 and 2016.
Mike Rice, investment director at Elaghmore, said: "Prepared fruit is an attractive proposition to the end consumers and retailers alike, but its perishable nature requires specific knowledge and equipment to make the most of the products.
"We have the knowledge and when combined with the support from Secure Trust Bank, it allows us to invest in the equipment and product development to deliver our growth strategy."