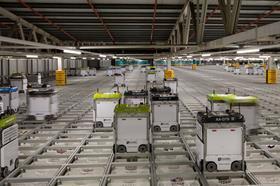 Online grocer Ocado cancelled thousands of orders after a fire at a fulfilment centre in south-east London on Friday (16 July).
The retailer said the blaze started when three of the robots that help pick its groceries collided at the Erith site.
About 800 staff were evacuated and firefighters worked through the night to contain the incident.
The company said yesterday (19 July) the fire would cause 'disruption to operations' but that it was 'working to restore normal service as soon as possible'.
'We expect the facility to begin operating within the coming week and thank customers whose orders are affected for their patience.
'We would like to also thank the London Fire Brigade and all the other emergency services for their hard work and professionalism in dealing with this incident.'
It said no one had been injured in the fire and all its staff were safe. The damage is limited to a small section of its warehouse, it added, although it could not say when the site would reopen.
Ocado's share price fell to its lowest levels in over a year on Monday following the incident.
Ocado's fulfilment centres are highly automated. At Erith, hundreds of robots zip around a grid, collecting groceries and bringing them to members of staff who will pack them into boxes, which are then loaded on to trucks for delivery.
However, a fault in a battery charging unit caused a robot to catch light at Ocado's Andover distribution centre in 2019, according to the BBC.
The site, which processed 30,000 orders a week at the time, burned for four days and was completely destroyed. It has since been rebuilt.