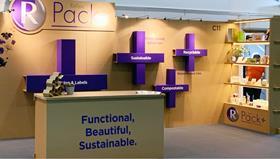 UK packaging and labelling specialist Reflex showcased its sustainable product range at lunch! food to go show at ExCeL London this week (23-24 September), from a fully recyclable cardboard exhibition stand – the first of its kind within the printing and packaging industry.
Featuring its extensive range of lined board 'food to go' packaging that launched earlier this year under the brand Reflex Pack Plus, visitors to the stand discovered a range of innovative and earth-friendly solutions to help solve their packaging problems, the firm said.
Some of these included:
Fibre based sandwich skillets
Fully recyclable stand-up pouches, VFFS/HFFS
100% post-consumer waste labels
Innovative packaging solutions using linerless labels
The stand itself represents Reflex's commitment to becoming the world's most sustainable packaging company and has been created by Data Image Group in Leicestershire, a business that shares Reflex's commitment to helping protect earths precious natural resources wherever possible.
Jamie Gordon, Reflex Pack Plus Sales Director said: "We're thrilled to be exhibiting at lunch! this year from our spectacular cardboard stand! This will be our first big show since before the pandemic and therefore feels extra-special. We're looking forward to chatting to visitors about the huge range of packaging and label samples we can produce and print at Reflex, and with sustainability being such a huge and current topic, we feel proud of the solutions we can offer across every product and price-point.
'Giving our customers choice is very important to us, and we work hard to continuously innovate with purpose, working with suppliers who share our commitment to both customers and the planet"
Lunch! is taking place on 23-24 September, with free tickets available to trade here
Founded in 2002, Reflex specialising in self-adhesive labels, linerless labels, flexible packaging, sleeves, lined board and labelling systems & software.
A carbon negative company, the firm says sustainability is at the heart of Reflex's operations.
With 18 sites strategically located around the UK, Reflex offer a full end-to-end service, including dedicated graphics and product photography studios.