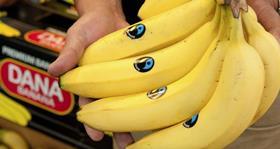 A boom in UK consumer demand for Fairtrade products in 2020, including bananas, cocoa, coffee and wine, is reflecting the extent to which the pandemic has sparked an increased global consciousness, changing the way Brits cook, eat, drink and shop.

Fairtrade purchases increased by 15 per cent in the last year, and almost 30 per cent of consumers pledged to buy more Fairtrade goods in the future, according to Ethical Consumer's recent Ethical Markets Report produced in collaboration with Co-operative Group.

That sense of the importance and necessity of Fairtrade is also reflected in its latest consumer survey, where active choice – shoppers choosing Fairtrade products over an alternative – is higher than ever in Fairtrade's history. Sustainable grocery shopping has moved from being a niche market into an area of big spend, and is particularly apparent online.

According to Waitrose's How Britain Shops Report, over one in four shoppers were actively seeking out the Fairtrade logo when shopping online in 2020, particularly within the 18-24 bracket. Searches on Waitrose.com for Fairtrade sugar was up 94 per cent, for Fairtrade bananas up 40 per cent and Fairtrade coffee up 31 per cent compared to searches in 2019.

Added to that, leading online retailers introduced new measures in 2020 to help make Fairtrade even more accessible for online shoppers, with Ocado launching an exclusive Fairtrade aisle, and Amazon selecting Fairtrade to be included in their Climate Friendly Pledge.

Commenting on this trend, Catherine David, Fairtrade Foundation commercial director, said: 'This is a heart-warming vote of confidence in Fairtrade from shoppers who clearly recognise the benefits of Fairtrade for the producers growing our food. The pandemic combined with the ongoing effects of climate change put enormous pressure on the most vulnerable farmers and workers in 2020, and many will be further marginalised by the economic impact in the months to come. Consumer support for Fairtrade continues to provide a vital lifeline to producers which will be more important than ever in 2021.'

This rise in ethical consumption and choosing responsibly sourced products comes at a time when Fairtrade is needed by farmers more than ever, according to Fairtrade Foundation. The economic impacts of Covid-19 on low-income communities overseas has shown why farmers need to be valued and fairly paid. The same is true as climate change continues to bring significant challenges to agricultural communities, including extreme weather damage to crops and farmland. Just last autumn, two hurricanes swept through Central America, hitting thousands of Fairtrade farmers very hard.

Many brands and retailers have rallied round in 2020, making impressive commitments to Fairtrade and the producers in their supply chains. The Co-op played a lead role both in protecting producers overseas and vulnerable people here in 2020. Coupled with UK government funding, producers in west and east Africa have received extra support, working with Co-op, Marks & Spencer, Tesco, Mondelez and MM Flowers.

Fairtrade has also seen standout commitments from companies determined to lead the way in ensuring a living income for farmers. Tony's Chocolonely and Ben & Jerry's, for example, will pay significantly more than the Fairtrade Minimum Price, helping farmers become even more resilient. This is hugely significant, showing that another way of trading is possible.

This comes as the Fairtrade Foundation prepares for its annual Fairtrade Fortnight. Taking place between 22 February-7 March, Fairtrade Fortnight 2021 marks the start of a new climate campaign asking the British public to get behind Fairtrade so that farmers overseas can benefit from fairer prices, fairer trading practices and the resources needed for tackling the climate emergency in low-income countries such as Kenya and Honduras.
To bring this to life, Fairtrade's Choose the World You Want Festival will feature 100 virtual public events designed to engage, inform and educate people around the urgent message of Fairtrade and climate justice. The Fairtrade Foundation is warning that the livelihoods of farmers, and supplies of the food they grow, will be under threat if global warming continues, as conditions will no longer support the growing of some key crops: for instance, 25 per cent of current coffee farms in Brazil and 37 per cent in Indonesia are likely to be lost to climate change if no action is taken and 50 per cent of the land currently used for coffee production will be lost by 2050.