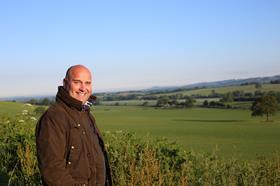 A high-ranking panel has been unveiled for this year's City Food Lecture at London's Guildhall on 17 February.
Following the lecture, which will be delivered this year by managing director of Arla Foods UK, AshAmirahmadi,there will be an interactive Q&A session where the Arla boss will join a panel of food industry experts.

The high-ranking panel will include Richard Clothier, MD of Wyke Farms; Fraser McKevitt, head of retail and consumer insight at Kantar; and Kate Nicholls, CEO for UKHospitality.
The panel will be chaired by Charlotte Smith, who is well known for her role as presenter on BBC1's Countryfile and on Radio 4's Farming Today.
Smith said: "As always, the City Food Lecture will address the key challenges food and farming faces. Our keynote speaker and the members of the panel represent years of experience at the sharp end of farm to fork businesses. With questions from our audience, it should be a lively evening!"
The event aims to provide an opportunity for discussion and debate on current and future food issues and will encourage innovative thinking about the ways to tackle the key challenges and opportunities facing the industry.
Amirahmadi, this year's keynote speaker, will be discussing the scale of the challenge posed by finding a way to feed the world while protecting the planet.
He will share his thoughts and views on how the food sector can shape its role and deliver on its core purpose over the next, vitally important, decade for the industry.
Among the issues that CFL's organisers said might be covered by the Arla boss in his lecture will be the accessibility, nutrition and affordability of food, which all have to be considered when supplying UK and global customers and consumers, alongside the all-important environmental impact of food production.
Chair of the City Food Lecture, John Giles, said: "This year is a special occasion for us being our 21stanniversary and we are really looking forward to what Ash Amirahmadi will tell us in his lecture.

"Arla is a business at the top of its game and as well as supplying customers in the UK and the EU is also highly active in the US, the Far East and the Gulf region.
"Ash will speak to us not just about the dairy sector but the wider challenges and opportunities in the food sector per se. It should be a fascinating evening and we are looking forward to it immensely."
The invitation-only event is organised by the seven City of London livery companies connected to the food sector: the Worshipful Company of Bakers, Butchers, Cooks, Farmers, Fishmongers, Fruiterers and Poulters.
The event's premium sponsor is Rathbone Investment Management who are joined by ABP, AC Goatham, Agri-EPI Centre, Berry Gardens, Compass Group UK & Ireland, Davy's Wine Merchants, Eden Search, HSBC, Noble Foods, Orchard World, Roythornes, Saffery Champness, Sunny Side Up, and media partner Fresh Produce Journal.