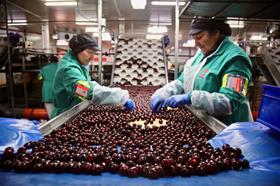 The stalkless Spanish cherry variety Picota has enjoyed a strong season, with favourable weather helping to extend the harvest and boost export volumes.
Warm and dry weather in Spain's Jerte Valley in May and June helped increase production to 7,000 tonnes, 2,000 of which were sold in the UK.
Pedro Garcia Mesias, commercial director of Agrupación of Cooperativas Valle del Jerte, the main cooperative supplying the UK with Picota cherries, said: "This season was strong from start to finish. The quality was superb, the sugar levels and size were as we'd expect, and volumes were better than we could have hoped for."
Picota were available in store for six weeks, from late June to early August, and Agrupación,together with Cooperativa Del Campo Navaconcejo, ran a promotional campaign to promote the variety. Activities included in-store promotions, online and print advertising, recipe creation and social media.
The Jerte Valley is the only place in the world that grows thePicotavariety, which is protected by aProtected Designation of Origincertificate, verifying that the fruit has been grown, harvested and packed under rigorous quality control procedures.
The variety is sold naturally stalkless – the stalk is left on the tree when harvested by hand, which helps ensure the fruit is only picked at optimum ripeness.