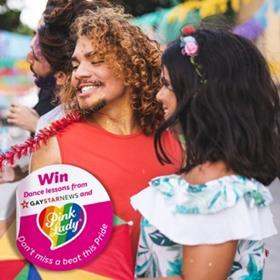 Pink Lady is celebrating Pride with Gay Star News and the Co-Op through a week-long rainbow sticker promotion, giving consumers the chance to win dance lessons.
For the first time, the brand's apples will be sold with a rainbow pride sticker, exclusively available in promotional packs from selected Co-Op across the UK.
The on-pack promotion in conjunction with Gay Star News began on 15 July and will run for one week or while stocks last, giving away £1,000 worth of dance lessons to 10winners.
Pink Lady has partnered with Gay Star News for the past five years, supporting Pride events across the UK and sponsoring Digital Pride, the online global Pride movement.
As part of this year's Digital Pride campaign, Pink Lady commissioned adance videoto explore the themes of isolation and loneliness, and the brand explained that it now wants to give people the chance to learn some new dance moves themselves.
"Dance brings people together, wherever you live and whoever you are," said Kyla Flynn, PR and social media manager for Pink Lady apples in the UK. "We want people to share the video, helping spread this campaign's positive messages."
Scott Nunn, co-founder of Gay Star News and Digital Pride, added: "Pink Lady has been a great creative partner to work with over the past five years, helping us raise awareness of the issues facing the LGBTQ+ community through #DigitalPride.
"We hope people will share the dance video and enter the competition. Dance really is a universal language and can help build people's confidence and motivate them to introduce themselves to a whole new community of people."
Advertising support for the promotion has come from Attitude magazine, in addition to email marketing and targeted digital and social advertising.