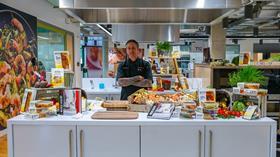 Tesco has reported its best Veganuary ever, with sales of plant-based foods up more than a third on the year before.
In total demand for plant-based foods soared by more than 35 per cent this year compared with January 2020, the supermarket said. Its best sellers included a Wicked Kitchen Hot Burrito, which saw sales rise 750 per cent on last January; Plant Chef Vegan Burgers, where were up nearly 500 per cent; and Plant Chef Spicy Bean Burgers, up more than 350 per cent.
Tesco's head of plant-based food innovation Derek Sarno said: "The last year has seen some truly groundbreaking and tempting new plant-based foods come on the market which have encouraged more people to go vegan, whether full time or as part of the Meat-Free Monday campaign.
"At the beginning of this month we launched our first plant-based bakery lines and the recent extensions made to our chilled, frozen and dairy vegan ranges have been the reason why we're seeing such strong demand.
"We're very proud of the No Turkey Crown which we launched before Christmas and which was the first-ever plant-based turkey launched in the UK. We also launched the UK's first-ever officially vegan jam doughnut which has been one of our star products this month. Within the next few years there won't be many foods that do not have a plant-based equivalent."