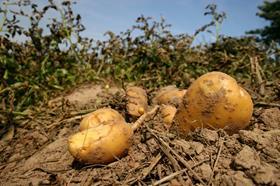 Planted area for potatoes may contract in 2021, with a large carry-over of stocks into 2021/22 a "distinct possibility", AHDB Potatoes has predicted.
"In previous seasons where we have seen depressed free-buy prices, we have seen the area contract the following year," wrote AHDB in its January 2021 Potatoes Market Outlook.
"For example, the average ware price in 2017/18 was £45.80 less than the previous season. The planted area in 2018 was reduced that year by 4,680ha."
With the planting window still ahead of us, AHDB said the area for 2021 remains uncertain, but we do know the following:
1. The UK had increased production this season versus the previous year, which has so far this season been "drawn down" at rates lower than the five-year average.
2. The coronavirus pandemic has decimated foodservice demand, particularly affecting the processing sector. As a result, free-buy prices have been under pressure.
3. There remain ongoing storage challenges with the removal of CIPC.
When it comes to foodservice, AHDB said we will start to see a pick-up in demand in the foodservice sector as the year progresses.
"With the rollout of the vaccination programme and the eventual easing of restrictions, some return to normality may be on the horizon," AHDB said. "However, how soon this will be remains uncertain, as does consumer confidence, both economically and in health terms."
Trade troubles
When it comes to trade, there are question marks around seed potatoes for which the UK failed to secure third-country equivalence with the EU. As a result, there is currently a ban on seed potato exports to the EU.
"This is most pressing for the 2021/22 marketing year and beyond," AHDB pointed out. "Scotland has reportedly already exported 95 per cent of its EU-destined seed potatoes for the season that would be affected by this phytosanitary barrier.
"HMRC recorded more November exports to the EU than had been seen in the previous five seasons and December could likely follow the same trend.
"Where we could see this impact is in planted area intended for seed, particularly if no agreement around third country equivalence be reached before the planting window (mid-April).
"The uncertainty this would raise surrounding the destination for the end-product may well result in a cautious grower reducing their area.
"While markets outside the EU continue to be sourced and grow, they would not immediately be able to plug a gap left by the loss of the EU market, particularly Irish, Spanish and Cypriote homes."
Sales volumes soar
There is good news on potato consumption with retail sales volumes up 13 per cent, two per centage points faster than total food and drink (Kantar, 52 w/e 27 December 2020). During lockdown, potatoes have benefitted from their versatility and price point.
All categories apart from chilled saw good levels of growth with the fastest growth seen for crisps (+14.9 per cent). Fresh potatoes also saw volume growth of 14.5 per cent, with 1.5 million tonnes being sold in retail over the year (Kantar, 52 w/e 27 December 2020).
The processing sector has suffered from the loss of foodservice volumes, however, and the growth in takeaway could not compensate for this.
Prior to Covid-19, total potato performance was seeing volume declines in retail and eating out. Potatoes struggled as more consumers increasingly favoured world cuisines above traditional meals. Cooking time was also an important barrier to in-home consumption.
The production picture
Last year, Britain produced an estimated 5.4 million tonnes of potatoes. "With the lifting window not plagued with the weather challenges of 2019, a reduced area was abandoned and yields returned in line with the five-year average," AHDB reported.
Grower-held potato stocks were estimated at 3.27 million tonnes at the end of November 2020. This is 12.5 per cent more than in 2019 and just under five per cent above the five-year average.
"The stock figures showed a surprising split by sector, with stock levels up year on year for packing and bags, but 12 per cent lower for processing material when compared with the same period," AHDB said.
"What is key to note, is that these stocks were at the end of November, when the demand picture was different to what we face now, and for the near future.
"With lockdown shutting foodservice since the beginning of January, and the tiering system resulting in high restriction levels for many during December, we may expect to see these sector drawdown rates switch in the end of January stocks."