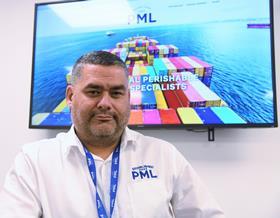 UK-based global perishable cargo specialist Perishable Movements Ltd (PML) has created a new sales manager role following the company's significant growth and in light of its expansion to offer services out of Spalding and - the most recent acquisition -Lympne, Kent, along with its existing head office at Heathrow.
Simon Hanley, who joined PML five years ago, has been promoted to the new position from his previous role as business development manager.
During his tenure with the business, he has acquired experience working across all aspects of the company's air, sea, road, import and export operations, PML said. Prior to his initial appointment at PML, Hanley was working in the ambient freight forwarding sector.
The sales manager position will see Hanley managing a team of four and reporting directly to sales director Nick Finbow. He is charged with a remit of growing the Spalding and Kent facilities and further developing PML's air freight exports, with a specific focus on companies looking to export their perishable goods to the Middle and Far East.
Although based at Heathrow, Hanley will also be spending a significant amount of time at the company's two additional sites.
Commenting on the promotion, Hanley said, "Working at PML has opened up many opportunities for me. I joined the company because I was attracted to the progressive working environment here. It's a flat organisation so there's no room for protracted discussions and excessive bureaucracy, decisions are made quickly to enable everyone to move forward with their roles.
'If you present a compelling case for a particular activity, the senior management team is incredibly supportive and receptive to new initiatives. I'm looking forward to the fresh challenges this position represents and relish the prospect of being part of PML's continued success and established recognition as an industry leader, success that is befitting of the clear commitment to forward thinking and continuous re-investment in the business."