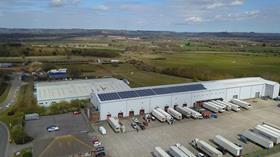 Over 30 office and warehouse jobs are to be created following a decision by global perishable cargo specialist Perishable Movements Ltd (PML) to set up a new satellite operation at Lympne Distribution Park in Kent.
This facility will sit alongside PML's main operations at Heathrow and its additional site at Spalding. In addition to providing employment opportunities to the local area, the company's move to establish a Kent base will also have a considerable positive impact on the local infrastructure, reducing delays on the roads within the area, caused by queuing freight traffic.
The company has invested around £3.5m in the purchase of a 100,000 square foot satellite site in Lympne, which represents a prime location for hauliers given its excellent proximity to the motorway network, Channel Tunnel and the ports (Dover and Folkestone).
This will enable PML to provide its customers with the opportunity to capitalise on an alternative route in and out of Heathrow, representing a seamless, efficient freight forwarding service which does not attract the charges / penalties associated with using the roads within the Greater London area affected by the new LEZ standards.
The company also plans to apply for remote HMRC / DEFRA approved Border Control Post (BCP) status to enable a faster transit of consignments out of the Port of Dover (which currently does not have a BCP). The Lympne site will enable PML customers to avoid the excessive well documented delays associated with freight traffic in and out of Dover and therefore extend the shelf life of any temperature sensitive cargo (which represents PML's core business), by up to four hours.
The 24/7 operation which will handle daily consignments of food - for packing, loading and unloading - should be up and running by end September. The business anticipates the new facility has the capacity to process 80-100 truck movements per day in its first phase of operation – which will focus on refrigerated goods only.
PML's latest venture comprises two impressive purpose-built cold stores, 14 dock levellers to enable safe and time efficient loading and offloading, expansive parking (for up to 60 trailers) and generous office space. The company plans to spend around £1m on refurbishments to bring the building up to its exacting standards and to ensure best practice in the handling of fruit, vegetables, meat, fish and flowers. This will include the creation of dedicated inspection areas and offices for customers.
Commenting on the decision to create a base at Kent, managing director Mike Parr said: "Our new site is located just two miles from Junction 11 of the M20 and really couldn't offer a more desirable location. In addition to proximity to the ports and Heathrow, we anticipate that haulage drivers will also appreciate the efficient and seamless service we will be able to deliver, enabling them to leave the trailer onsite while they take a rest break, as opposed to sitting in a queue worrying about the lengthy delays which could seriously impact on the condition of their perishable cargo – and of course adds to major delays on Kent's roads.
'We are keen to become an active member of the local community and will be providing employment opportunities at a time when many people have suffered financially as a result of the pandemic. Anyone wishing to find out details of the jobs that are on offer should contact recruitment@pml-ltd.com."