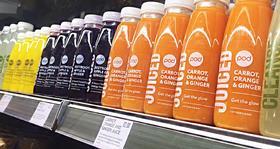 Foodservice chain Pod has launched a range of wonky fruit and vegetable smoothies.
Several months in the making, the idea behind the products is to help with the reduction of food waste across Pod's 22 restaurants.
In 250ml bottles, Pod has a Carrot, Orange and Ginger smoothie, and a Beetroot, Apple and Ginger blend.
They are priced at £2 a bottle.
Pod was founded in 2005, and made its name as one of the first food-to-go brands to deliver takeaway porridge, before then finding a way to serve freshly scrambled 'takeaway' eggs in 2006.