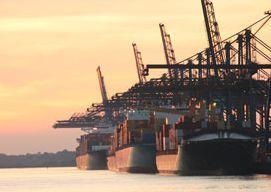 The UK's largest commercial port says the supply chain crisis has caused a logjam of shipping containers.
The Port of Felixstowe, which handles 36 per cent of the UK's freight container traffic, blamed the busy pre-Christmas period and haulage shortages.
Shipping giant Maersk told the BBC it is re-routing some of its biggest ships away from the port.
The Financial Times first reported on Tuesday that Maersk was re-routing ships away from Felixstowe to other European ports, where smaller vessels will be used for UK deliveries.
Lars Mikael Jensen, head of global ocean network at Maersk, told BBC Radio 5 Live's Drive programme that some of its largest 20,000-container ships were waiting outside Felixstowe for between four to seven days.
Problems at Felixstowe come as retailers and other groups warn of mounting concern about stocks in the run-up to Christmas trading.
The port has blamed several factors for the build-up of shipping containers, including the busy pre-Christmas peak, haulage shortages, poor vessel scheduling, and the impact of the pandemic.