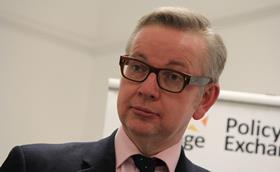 Food entering Britain from the European Union will not be subject to inspections until the start of next year, UK ministers announced yesterday (11 March), amid fears that additional Brexit red tape could lead to shortages in the shops.
The government had been intending to impose comprehensive checks on fresh produce, meat, fish and dairy products entering the UK at the start of July, with a requirement to fill in export health certificates also due to start in April.
Physical checks will now move back from July to January 2022, easing the race to build new border control posts, while health certificate requirements will be put on hold to October - having previously been due on April 1, the government said.
Cabinet Office Minister Lord Frost said it would help companies ravaged by the coronavirus pandemic to focus on 'getting back on their feet'.
Michael Gove, the minister for the Cabinet Office, told the House of Commons on Thursday that the government had responded to businesses' requests for more time and announced what he called a "revised timetable".
Gove blamed the need for delays on the pandemic, telling MPs the previous timetable was "based on the impacts of the first wave of Covid" but that the government had reviewed deadlines because the disruption had been wider and longer-lasting than expected.
Most import checks have now been pushed back to 1 January 2022, meaning Britain will begin these processes a year later than the EU.
The Fresh Produce Consortium welcomed the UK Government's decision to revise the timetable for import controls and not to introduce the requirement for phytosanitary certificates for EU imports of fresh fruit and vegetables produce on 1 April.
'The UK Government has recognised the enormity of the challenges facing the UK fresh produce industry and its European partners, as well as its own plant health inspection service. It realises that it must get its act together before imposing on the UK fresh produce industry the next stage of significant change,' the FPC said in a statement.
'This decision would not have happened without extensive lobbying by the Fresh Produce Consortium. Whilst we have secured this temporary reprieve we hope that it will enable the UK plant health authorities to put in place the much need electronic certification system which is essential to alleviate several issues we have identified before pre-notification is introduced.
APHA must improve its current inspection service now. UK importers are experiencing significant problems with high risk plant products due to poor availability of plant health inspectors, delays in inspections and clearance of consignments. This has resulted in highly perishable products having to be thrown away and potential loss of contracts with customers.'
The UK fresh produce industry needs assurance that the UK plant health inspection regime is fit for purpose and ready to take on an additional million plant health certificates each year for fresh fruit and vegetables, flowers and plants, the FPC said.
Andrew Opie, the director of food and sustainability at the British Retail Consortium, a lobby group, told The Guardian that the postponement had come "in the nick of time". He said it would "ultimately reduce the impact on consumers from 1 April who might otherwise have seen empty shelves for some products".
Opie added: "Until the infrastructure is in place, with IT systems ready and established processes for checks and paperwork, it would be foolhardy to introduce full requirements for export health certificate documentation, pre-notification of imports, physical checks and more."
British customs were due to begin controlling imports of plants, fruits, vegetables, animal products, live animals from 1 April. The checks, known as sanitary and phytosanitary (SPS) controls, require consignments to have the correct documentation and import and health certificates signed by vets on arrival in Britain.
Reacting to the government's new 'Border Operating Modelfor Great Britain', the NFU called for a 'level playing field' where EU/UK food imports and exports are concerned, and urged both the UK and EU to work together to agree long-term arrangements as a matter of priority so trade can flow as smoothly as possible while new border infrastructure and systems are put in place.
NFU President Minette Batters said: "Since 1 January the UK's agri-food sector has been struggling with the additional costs and burdens that moving goods to the EU now entails. It is therefore frustrating that our government is not taking a similar approach to the treatment of imports coming into Great Britain from the EU.
"Our exporters face additional costs and run the risk of financial losses if products are turned back or held up at the border, yet [yesterday's] announcement means that EU producers will maintain access to the UK market relatively burden-free for a considerable amount of time. It is crucial that we achieve a level playing field with pragmatic checks on imports and exports as quickly as possible.
"However, we also recognise that for certain food products this extension is a necessary step to ensure supermarket shelves remain well stocked. For example, there are some fruit and vegetables that can't be grown in the UK or that won't be in season or widely available.
"There remains a lot of outstanding issues that we want the UK and the EU to resolve as part of ongoing relationship discussions. More needs to be done to address the burdens on exporters to the EU, including the digitalisation of outdated paperwork requirements for health and organic certificates, and streamlining physical and administrative checks at the border.
"We also need the continued ban on exports of UK seed potatoes to be urgently addressed. In the meantime, while the ban remains in place, our government must set out how it will support the British growers affected."
Here is a brief outline of the government's announcement:
Pre-notification and export health certification for animal products will not be required until 1 October 2021, and for low-risk plant and plant products until 1 January 2022.
Physical checks at the border will not take place on a range of agri-food products and high-risk plants until 1 January 2022. These will be carried out at Border Control Posts.
Physical checks on live animals and low-risk plants and plant material will not take place until March 2022. These will be carried out at Border Control Posts.
The previous Border Operating Model dictated that the new but limited Sanitary and Phytosanitary (SPS) controls, which have been applied to goods imported from the EU including live animals and high priority plants from 1 January 2021, would be expanded from 1 April 2021 to cover administrative requirements. This included pre-notification of imports and health certificates for all products of animal origin, as well as regulated plant and plant materials.
The EU has applied full SPS controls on UK exports entering its market for all agri-food products.
Together, fresh fruit and vegetables remains the highest value category for imports of agri-food from the EU, totalling £7.3 billion in 2019.