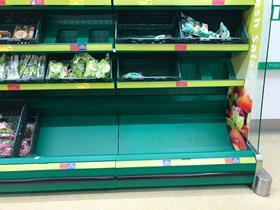 Yesterday's (23 September) ONS Business Insights report paints a bleak picture, says the delivery expert ParcelHero: 12.5 per cent of retailers say they have been unable to get key products and 20 per cent of transport companies have suspended business.
New UK trade figures released yesterday by the Office for National Statistics (ONS) are extremely concerning, says the home delivery expert ParcelHero. They reveal widespread shortages for retailers and tumbling profit margins for transport companies, as the Brexit-created driver shortage bites deeper.
This latest Business Insights and Impact on the UK Economy report, for the fortnight ending 5 September, saw 23 per cent of retailers and wholesalers report lower stock levels than expected, with over 10 per cent unable to get some key goods entirely. Transport and storage companies reported similar problems, with 20 per cent of businesses either closed entirely or pausing trading.
Commenting on the report, ParcelHero's Head of Consumer Research, David Jinks, said: 'These ONS figures are bad news for shoppers needing staple goods. Many retailers should now be in their Christmas build up period, instead of which they are struggling to meet today's demands for basic items. With available drivers seemingly as rare as hen's teeth, there's huge demand for every inch of space on those trucks that are on the move. That means higher value items are being prioritised, and bulky staples are going to the back of the queue.'
Bottled water, toilet rolls and other paper goods could be increasingly difficult for shoppers to find, as stores and their delivery partners concentrate on bigger ticket items, he said.
While some goods will be completely out of stock, shoppers may have to switch brands to get other items, Jinks added. 12.5 per cent of shops and wholesalers say they have had to ditch their normal suppliers of some products and find alternative sources because they can't get deliveries. This will have an impact on prices and the choice of products available in store.
'Transport and storage companies are in equal trouble,' he said. 'Rising driver's wages and incentives are costing them more and 26 per cent saying their turnover had decreased from normal levels. The ONS says the sector has been worst hit of all by Covid and Brexit.
"The transportation and storage industry had the lowest percentage of businesses currently trading in early September 2021, at 80 per cent. The high percentage of paused and permanently ceased traders is partly driven by the freight transport by road industry and the unlicensed carriers industry. This industry has been widely reported as experiencing a shortage of lorry drivers.'
After most "non-skilled" EU citizens returned to their home countries in the wake of the Brexit vote, ParcelHero warned the Government of a shortfall of up to 100,000 drivers. Those warnings fell on deaf ears, it says. Combined with the Government's dogmatic refusal to allow EU-based drivers to return under temporary skilled-worker permits, the UK's entire supply chain is consequently on the verge of a major crisis.
'This is yet another problem that Brexit has created for British importers and exporters,' ParcelHero said.