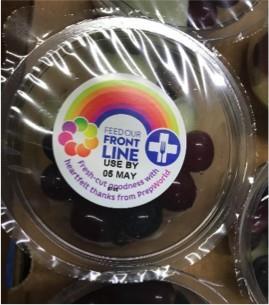 Prepared fresh produce specialists PrepWorld has donated over 67,000 fresh fruit pots to NHS hospitals since March, in response to the coronavirus pandemic.
Fresh produce businesses across the country have rushed to support frontline workers such as NHS staff, healthworkers and carers, with donations of fresh fruit and veg, which suffered from short supply at the start of the outbreak due to panic buying.
Through the Feed our Frontline initiative, PrepWorld has donated the ready-to-eat fruit pots to London hospitals.
The company even designed a bespoke logo to go on the pots, featuring the image a rainbow, which has become a symbol for hope across the world during the crisis.
The Feed Our Frontline initiative delivers fresh produce and meals to heroic hospital staff free of charge, operating on the goodwill and generosity of food suppliers, alongside funding from Feed NHS.
"It's been a fantastic initiative to be involved in," said Benjamin Olins, CEO of PrepWorld.
"If you'd told me at the beginning of the year, that by spring, we'd be supplying some of London's major hospitals, I would have been surprised but, despite all of the challenges that have come with Covid-19, this has been an initiative that I've been especially proud and humbled to be a part of."
PrepWorld's freshly cut fruit pots, which can be found on all the UK's major retailer shelves, are now also being delivered to six hospitals across the capital to help overcome the challenges NHS hospitals and staff are facing with food supply amidst the crisis.
The ready-to-eat fruit pots, which are convenient for on-the-go consumption have not cost NHS workers a penny.
"It's great that staff are being kept healthy with fruit and veg deliveries," explained one health worker at the Royal Free hospital. Deliveries have been well received as NHS workers face overburdened canteens, long shifts and limited access to fresh and nutritious food.
PrepWorld joins the likes of foodservice businesses such as Leon, Wasabi, Dishoom and Tossed, to become the only fresh fruit business in the Feed Our Frontline scheme.
"As well as our Thursday night applause, it's been a great way to show support for our NHS," added Benjamin Olins.
"I was delighted by how quickly we were able to set up and assist. Within a week, we had a brand-new logo, specifically designed to support the initiative, with labels kindly donated by ProPrint Group, and we were delivering our fresh fruit products to those who need it most."
To find out more, you can visit PrepWorld's website, visit theFeed Our Frontline website, or donate toFeedNHS.