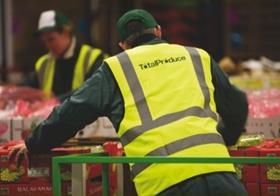 Industry giant Total Produce is celebrating afterposting higher profits and revenues in the year ending 31 December 2013 on the back of several successful acquisitions.
Group revenue for the year rose by 13 per cent to €3.2bn, while adjusted pre-tax profits increased by 12.5 per cent to €52.9 million.
Chairman Carl McCann, said: "Total Produce has recorded a strong performance in 2013 with total revenue increasing and adjusted earnings per share increasing by 10.5 per cent to 8.77 cent per share.
"The group's growth is primarily driven by successful acquisitions completed in recent years, including the investment in Oppenheimer in North America.
"We are also pleased to announce a 10 per cent increase in the final dividend to 1.66 cent per share. The group actively continues to pursue further investment opportunities and is targeting adjusted earnings per share for 2014 in the range of 8.4 cent to 9.4 cent per share."
For the financial year ending 31 December 2013, revenue in Total Produce's Eurozone division increased 12.5 per cent to €1.49bn.
Reported revenue in the group's UK division decreased by 1.8 per cent to €481m in the same period. The results were negatively impacted by the 5.2 per cent weakening of sterling in 2013, a spokesperson said, but a strong second half of the year was recorded, particularly in the wholesale sector, coming on the back a relatively poor start to the year due to a late spring.
Meanwhile, revenue in Total Produce's Northern European division increased by 12.2 per cent to €900m; a rise the group put down to new customers, new product lines and average price growth.
And reported revenue in the group's international business increased to €227m from €123m in 2012, benefitting from the acquisition of an initial 35 per cent interest in the Oppenheimer Group in January 2013, with a further 30 per cent to be acquired in 2017.
The firm's strong growth in the year was also assisted by the positive contributions from other acquisitions completed in recent years – offset in part by the divestment of the group's 25 per cent interest in South African exporter Capespan Group.
In December 2013, the group completed the acquisition of a further 41 per cent shareholding in Provenance Partners Limited taking Total Produce's interest to 50 per cent.
Provenance primarily sources exotic vegetables from Africa, and the move expands the group's product offering to major retailers, food service and wholesale customers in the UK.
Then, post year-end, Total Produce completed an agreement – subject to regulatory approval – to acquire the second 50 per cent shareholding in soft fruit specialist Dutch soft fruit specialist All Seasons Fruit.