Tong Engineering unveils series of improvements to Visar Sortop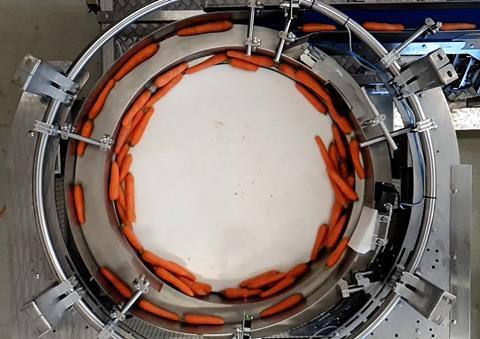 Increased throughput, accuracy and quality have been unveiled as key improvements to the updated Visar Sortop carrot optical sorter.
The Visar Sortop carrot and potato optical sorter uses intelligent optical sorting technology based upon a 360-degree mirror system and HD camera for great accuracy at speed. It is designed to accept any form of carrot and potato, even one that is highly twisted, and can detect defects to the nearest millimetre or gram.
According to UK distributor Tong Engineering, one of the key updates to the Visar Sortop sorter is a new software featuring infrared vision, which increases the accuracy of defect detection such as rotten, damaged or mouse-gnawed crowns.
In particular, the new infrared vision has improved the machine's vision of carrot crowns and tips where defects can commonly occur, the company said. In addition, the software has a simplified user interface that controls the machine's automatic and progressive learning of which defects are acceptable or not.
The precise adjustment of quality parameters is now even easier for the operator and instant statistics on production and batch quality are now also easily available. With the new machine, 16 customisable outlets are available for maximum flexibility.
Alongside the updates to the machine's software, the Visar Sortop has a new infeed system which brings a highly increased hourly sorting capacity. Built upon a unique design, the feeding system features "a simple and ingenious rotating system which cleverly and smoothly aligns carrots of all sizes into a singular orientation, for perfect infeed to the optical sorter without any duplicates."
This new infeed system means that some 1.8m of lined-up carrots can be viewed per second.
"Creating efficiencies across the vegetable-handling process, particularly in replacing traditional sorting methods with the latest optical sorting facilities, continues to be a real focus for vegetable producers," explained Simon Lee, sales director at Tong Engineering.
"The updates to the Visar not only mean the machine is more user-friendly than ever before, but the detection capabilities of the machine have advanced even further while throughput has increased significantly with the introduction of the new infeed system."