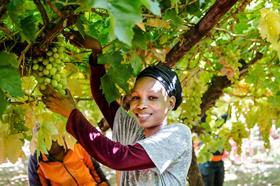 The South African raisin industry has launched a new UK marketing campaign to promote product from the Northern and Western Cape.
The campaign, run by non-profit marketing body Raisins South Africa, aims to communicate – to both the British trade and consumers – why buying raisins from the country can have a positive impact on consumers' health, the lives of growers and the environment.
Currently, seven per cent of South African raisins are exported to the UK, while Germany is the country's largest export market in the product.
The three main varieties of raisins produced in South Africa are Thompsons (medium, bold and jumbo), which account for 50 per cent of the harvest; Goldens (medium, bold and jumbo), which make up 30 per cent; and Flames.
The promotional campaign kicks off in October with activities such as trade and consumer print advertising, social media activity, recipe development, and trade and consumer press coverage.
South African raisins are produced in the Orange and Olifants river regions in the Northern and Western Cape respectively, with the former accounting for 90 per cent of production and the latter making up the remaining 10 per cent.
These regions benefit from lots of sunshine, on average 10.5 hours every day between January and March, which is when the fruit is harvested and naturally sundried.
The dry, sunny climate, along with an ample supply of water from the rivers, makes for ideal growing conditions, according to the marketing body.
Raisins South Africa added that the "excellent infrastructure, organisation within the industry, and a focused production area" make communication between growers relatively simple and boost product quality.
Ferdie Botha, chief executive of Raisins South Africa, added: "Our farms and pack houses demonstrate commitment to responsible business practices – encouraging human rights, protecting the environment, and supporting business conduct that results in sustainable value chains…
"The focus is placed on optimisation of our raisin production activities, quality, food safety and safeguarding our environment for future generations."
The body stressed that it prioritises workers' rights and upholds labour laws, as well as contributing to nearly 23,000 jobs on farms and 750 jobs in factories in two regions where unemployment levels are above 30 per cent.
In addition, vocational training is said to be offered to all workers in the sector.