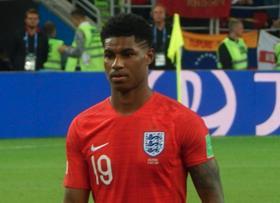 Marcus Rashford is celebrating after his campaign to help hungry kids during school holidays brought about a u-turn by the government.
The footballer's campaign captured the public's imagination and saw a petition garner over a million signatures. And while initially the government argued the Universal Credit system was enough to address the problem, it has now unveiled a series of measures, the centrepiece of which is a new £170m Covid Winter Grant Scheme that will be run by councils in England.
The funding will be ring-fenced, with at least 80 per cent earmarked to support with food and bills, and will cover the period to the end of March 2021. Local Authorities will receive the funding at the beginning of December 2020.
The government said it will allow councils to directly help the hardest-hit families and individuals, as well as provide food for children who need it over the holidays.
The Holiday Activities and Food programme, which has provided healthy food and enriching activities to disadvantaged children since 2018, will also be expanded across England next year.
It will cover Easter, summer and Christmas in 2021, and cost up to £220m. It will be available to children in every local authority in England, building on previous programmes, including this summer's, which supported around 50,000 children across 17 local authorities.
In a further victory both for Rashford and Henry Dimbleby's National Food Strategy, Healthy Start scheme payments are also set to increase from £3.10 to £4.25 a week from April 2021.
The scheme supports pregnant women or those with children under four who have a low income and are in receipt of benefits to buy fresh fruit and vegetables. This will help people boost the long-term health of their children.
The government has also pledged additional funding of £16m for food distribution charities, with conversations with FareShare and others ongoing as to how this is allocated.
Rashford said he'd be given the news personally by Prime Minister Boris Johnson in a phone call following Manchester United's game against Everton at the weekend. 'I very much welcome the steps that have been taken to combat child food poverty in the UK,' he said. 'There is still so much more to do, and my immediate concern is the approximate 1.7m children who miss out on Free School Meals, holiday provision and Healthy Start vouchers because their family income isn't quite low enough, but the intent the government have shown today is nothing but positive and they should be recognised for that.
'The steps made today will improve the lives of near 1.7m children in the UK over the next 12 months, and that can only be celebrated. I want to take this moment to reflect on what has occurred over the last couple of weeks. I am so proud of 'us' as a collective. 'Us' being the local businesses, charity workers, volunteers, teachers, social workers, carers, and key workers. Together we have demonstrated the power of kindness and compassion. We have shown that when it comes down to the wire, we will always have each other.
'Seeing the role everyone has played in supporting our most vulnerable children has been the greatest moment of my life. I have been overwhelmed by the outpouring of empathy and understanding. I am fully committed to this cause, and I will fight for the rest of my life for it, because in my mind, no child should ever go hungry in the United Kingdom. I don't want any child to go through what I went through, and any parent to experience what my mother experienced.
'I now call on the government to collaborate with the Child Food Poverty Taskforce to guarantee that no child does. As a collective we are so powerful and we all have a role to play in this, whether it be volunteering, donating, or as simple as a kind word. Today, I'm overwhelmed with pride that we have made such significant progress.'