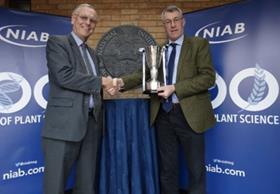 The red onion variety Red Baron has been named most influential non-cereal variety of the past 100 years by NIAB.
In awarding the Centenary Variety Cup, NIAB technical director Bill Clark and crop variety specialists Bruce Napier, Simon Kightley, Hannah Parish and Cheryl Turnbull considered 100 years of non-cereal varieties from the horticulture and agriculture sector and assessed them in terms of agronomic value, market influence and lasting impact, most notably in their use in plant-breeding programmes.
Clark explained: "The cup was first awarded in 1986 to the cauliflower White Rock and most recently in 2015 to the perennial ryegrass Abergreen. But this year, as with the NIAB Centenary Cereals Cup awarded in June, we are rewarding excellence that goes beyond the norm. There were many worthwhile and well-known candidates including the potato Maris Piper, Apex winter oilseed rape, Roberta sugar beet and the white clover Aberystwyth S184. But the variety that stood out was Red Baron."
Red Baron was one of the first red onion varieties that paved the way for the widespread success of the vegetable in the late 1980s, with consumer demand for red onions fuelled by TV cookery programmes and its use in the restaurant and fast-food trade.
In 2019, Red Baron is still considered the industry standard despite being launched in 1985 and first appearing in Elsoms' vegetable catalogue in 1991. It achieved a 95 per cent market share at its peak and still commands 20 per cent of sales almost 35 years later. Bred by Bejo/De Groot en Slot in The Netherlands, its UK distributor is Elsoms.
NIAB's vegetable specialist Bruce Napier said Red Baron's competitive yield is the main reason to its continuing success. "But on top of yield growers consider Red Baron a very versatile variety, easy to grow and agronomically consistent with production both as a drilled and a set-crop. As an open pollinated variety seed production is always reliable.'
Robin Wood, deputy chairman at Elsoms, said: "Red Baron, after all these years, is still an outstanding and reliable red bulb onion at the forefront of increasing demand for red onions in the UK market. I recall trialling Red Baron in small-scale demonstration plots in the mid-80s, when the red onion marketplace was in its infancy. Since then, it's been clear that Red Baron has led the field in varietal choice.'