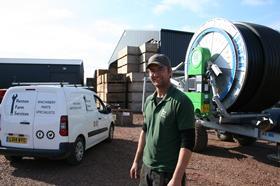 A new sales, service and parts dealer for Bauer irrigation equipment is offering Scottish growers a 'try before you buy' demonstration of the Rainstar irrigation reel's features and performance.
Ag-engineering business Renton Farm Services has taken on the Bauer franchise at its farm-based premises near Dunbar to support potato and field-scale vegetable growers throughout East Lothian.
Director Graeme Renton said: "Six years ago we started a family-run business sourcing and supplying parts for farm machinery and related equipment.
"As potato growers and users of a couple of elderly Bauer irrigation reels ourselves, I was aware of local support being limited, so approached Bauer about taking on the franchise."
With an agreement in place, Renton took the plunge by ordering two new Rainstar E irrigation reels for stock – and the move paid off as the first of those units has already been put to work on a local farm.
"It was a bit of a gamble but I'm pretty confident of finding customers because as a premium product the Bauer reel irrigator has a strong reputation for performance and durability; our own machines are 26 years old and still relatively hassle-free," he said.
Adrian Tindall and Rob Jackson, who handle Bauer interests in the UK and Ireland, have welcomed Renton Farm Services' appointment.
"It's been good to see Graeme looking ahead by stocking two machines in readiness for his involvement with Bauer and having one in the yard will be useful for growers wanting to have a look at the latest Rainstar product," said Rob Jackson.
"I would urge growers considering a change of irrigator to also look ahead as we've been taking orders and securing build slots at Bauer's very busy factory for next-year deliveries."
Like the first unit sold, the Rainstar E31 10/470 turntable reel available for viewing at Graeme Renton's premises is equipped with tandem axles and a hydraulic drawbar jack, plus Bauer's Ecostar 6000 controller, which is now fitted as standard for the UK and Ireland.
This touch screen display provides easy access to settings, remote access to adjust wind-in speed, and provides interruption, fault, 'distance to go' and 'run finished' text notifications among its functions.
Growers using several Rainstar irrigators can opt for the SmartRain telematics system, which in addition to compiling detailed irrigation event records including water consumption, can be set-up with selected manager and field operator notifications. This avoids information overload while easing irrigator fleet management through the SmartRain mobile device app.
"Buying irrigation equipment is an investment that has to be considered over the long-term with respect to the total cost of ownership," said Graeme Renton. "The Bauer product is very attractive in that respect because of the reliability, performance and durability that comes from using high quality precision components and a fully galvanised chassis and reel structure."
At the heart of every Rainstar is one of Bauer's highly efficient radial water turbines, designed and precision-assembled for minimal loss of water pressure, and powered by the unique Vario variable output water nozzle.
The Vario design automatically adjusts to deliver a powerful water flow over the turbine's impeller at all settings and available pressures to maintain a consistent hose retraction speed over the whole length of an irrigation strip.
Meanwhile, Reekie Ltd, a leading supplier of agricultural, construction and groundcare machinery, is all set to rejuvenate sales, service and parts back-up as a newly-appointed official dealer for Bauer's premium range of crop irrigation equipment.
The main focus of the new partnership is on the group's depots at Perth and Cupar, which cover some of the largest potato and vegetable growing areas in Scotland.
Reekie Ltd has already supplied a Bauer Rainstar E31 to a long-standing customer and to underscore its commitment to the new partnership has taken a second E31 into stock and placed a substantial order for critical parts to support future customers for the machines.
Sam Mercer, general manager at Cupar and Perth, said: "We have a long-standing involvement with irrigation equipment and wanted to get back to supplying new irrigators again with a premium brand that would sit well alongside our agricultural machinery franchises.
"In Bauer, we have that premium brand; the company has a well-deserved reputation for its engineering and manufacturing quality, and the performance and durability of its irrigators."
Bauer has been at the forefront of irrigation equipment design and technology for more than 50 years as a leading supplier worldwide.
The group's integrated manufacturing facilities at the factory in Voitsberg, Austria produces original Bauer couplings, rigid pipe and flexible PE pipe, precision components and the fully galvanised reel units.