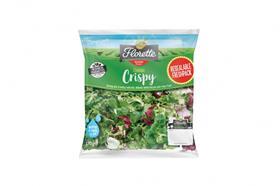 Florette has launched a new resealable pack for its Classic Crispy mix.
The new packaging, which will replace the previous 170g Classic Crispy bags, features a resealable tab at the top of the bag so it can be opened and closed repeatedly. This helps to maintain the salad's freshness and provide greater convenience for consumers, the brand leader said.
The packaging also includes a Freshness Guarantee,offering consumers theirmoney back if they are not satisfied with the freshness of the leaves, which is applicable across Florette's full range.
The resealable pack will be available in 170g bags from 27April, RRP £1.50, while the Freshness Guarantee is set to be on all packs by the beginning of May.
Florette said it has been developing the product for the past 12 months and has carried out considerable consumer research to ensure its success.
Hazel Clark, marketing controller at Florette UK, said: "At Florette, ensuring the best quality and freshness possible for our consumers is always our number-one priority and this latest innovation offers a solution by providing the ultimate convenience while keeping the leaves fresh.
'At this time when we are being asked to limit trips to supermarkets, we are finding consumers struggling to keep fresh salad and vegetables in the house and maintain a healthy diet and lifestyle.This new innovative pack should help to ensure families can continue to eat healthily while on lockdown."