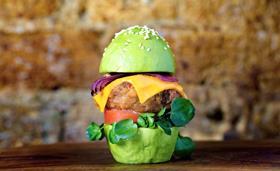 The avocado NPD bandwagon continues to roll on with the news that a London restaurant has launched an avocado bun for one of its burgers.
Joe's Southern Table and Bar in Covent Garden said it responded to requests from customers to add the avocado bun to its menu, but admitted it's impossible to eat without cutlery.
"It's not the easiest of things to eat. It can quickly turn into a mushy mess so we're finding customers are using a knife and fork to eat it," said group operations manager, Jim Robertson.
"Preparing them is a nightmare for the kitchen as avocados can be difficult to work with but I have to admit, they taste brilliant."
The avocado bun craze was reportedly started by Dutch food stylist Colette Dike, who posted a picture of a chickpea burger and grilled baby sweetcorn sandwiched between two halves of avocado.
Robertson said he saw Colette's creations while searching for new menu ideas on Instagram and felt they were a perfect fit for Joe's.
Joe's Southern Table and Bar is now offering the Avocado Bun in three varieties; a traditional cheeseburger with bacon, southern fried chicken with hot mayo sauce and a vegetarian soy burger.
Restaurant marketing manager, Anthony Knight, said: "We're always on the lookout for new food trends and this is definitely Instagram worthy! It's a huge hit with tourists, healthy eaters and foodies alike.'