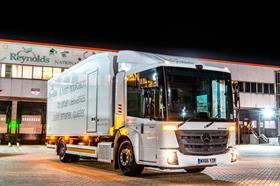 Fresh produce firm Reynolds was awarded best UK fruit and veg supplier for the fifth year running by readers of Restaurant Magazine.
Restaurant Magazine's annual Readers' Choice award is voted for by professional chefs across every sector of the restaurant industry. It highlights the suppliers, brands, wholesalers and manufacturers who deliver consistency and excellence to kitchens across the UK.
Tony Reynolds, managing director, commented "We've been privileged to win this award for the last four years, and to win it again for the fifth year in a row is a real honour.
'Thank you very much to all the chefs who took the time to vote for us – the fact that we were named the UK's best fruit and veg supplier by the people who use our service and products every day makes it even more rewarding. The team at Reynolds are feeling very proud right now."
Reynolds is one of the UK's largest distributors of fresh fruit, vegetables, dairy and cheese to the foodservice industry. In February 2018 it purchased high-end Wimbledon greengrocer Solstice.