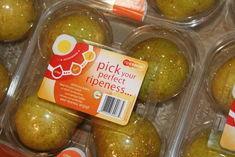 Ripesense is expanding its product range to include avocados and mangoes.
The innovative technology uses ripeness sensors inside packaging that react with natural aroma compounds. A label on the package goes through three different colour stages, from red to orange to yellow, which advises consumers as to a product's different stages of ripeness.
Following the success of the Ripesense launch with pears two years ago, which came runner up in Fruit Logistica's first Innovation Awards last year, the company has now added avocados and mangoes to its range.
Danielle Archer, senior marketing executive, said it was working with a major retailer to launch the trio in the UK: "For the UK consumer, they need more of a product offering. So when we release the other two [products], they can all go into stores at once."
She said the range could ultimately grow different fresh produce categories by attracting new customers who have not previously had the confidence to try an exotic fruit. The technology can also help current consumers of mangoes and avocados get the best from their fruit.
"Consumers eat avocados too late and are not getting a good experience," she said. "With mangoes, some of the best varieties are green-skinned, but consumers don't know when they should be eating them. When consumers eat the mango at its juicy stage, it encourages consumption."