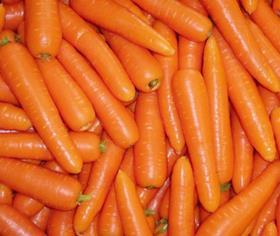 Speak to one of the UK's leading carrot and parsnip growers Guy Poskitt and it's impossible not to be left with the impression that the current challenges for producers outweigh the opportunities. According to the root vegetable specialist from Yorkshire, there are two main areas of concern for growers in his sector, and these are familiar to producers across much of the fresh produce industry: a lack of agrochemicals, and labour shortages linked to Brexit.
A number of chemicals used in carrot and parsnip production have been banned in recent years, most recently the herbicide linuron, which controls a range of annual broadleaf weeds and is probably the most widely used weed killer for carrots. The EU's decision not to renew the licence for linuron was taken in January 2017, with Ian Holmes, the research and development chair at the British Carrot Growers Association, describing the move as "a blow to growers both in terms of efficacy and the relative cost of alternative strategies".
The second big challenge is Brexit and what it means for labour availability. Poskitt reports that his company is consistently running about five per cent short of workers, but the problem, he says, is labour retention rather than an inability to source workers. "At the moment we can still get labour but our retention is poor, which means our skill level is poor, our training is high, our admin is high, so overall our inefficiency costs are running a lot higher than before. Every week we're recruiting new people, every week agency recruits make up the numbers, so it's far from ideal."
As Poskitt sees it, there are two ways out of this situation. One is to introduce more automation and robotics, and the other is to pay workers more money, but both have their drawbacks. "We're probably ten years off some jobs being automated, and if we pay workers more, our customers will also have to pay more," he explains.
When it comes to automation, there have been some promising developments. There is now improved camera-grading technology, and robotic packing and stacking is a reality, but there's still lots left to achieve. "It all comes at a big cost and you have to ask whether we're seeing the return at a retail level to justify the investment?" asks Poskitt. He also points out that it's "pointless" to invest in automation if the industry doesn't have adequate access to agrochemicals and necessary labour to keep the sector afloat.
One reason to be cheerful in the root vegetable sector, according to parsnip seed supplier Tozer Seeds, is the growth of the convenience and prepared segment, with snacking products such as parsnip crisps growing along with frozen oven-ready parsnips. Meanwhile, the processing market for parsnips grows year on year as it's a healthy component product for soups and baby foods. And the fresh sector is moving towards pre-packed baby parsnips. This is an oven-ready product, which account manager Daniel Fait says is similar to the Chantenay carrot "in the sense that you throw them straight from the pack into a tray with some oil for roasting".
In terms of new varieties, Tozer recently developed a new variety of parsnip called Warrior, which Fait says is "a whiter, smoother parsnip that is slower to oxidise and discolour, giving it greater consumer presentation and shelf life". According to Fait, parsnip shape has evolved to varieties which carry their weight further down the root. "This delivers higher yields for growers, as well as better presentation for the consumer and higher process yields for both packers and processors," he explains.
Responding to the dual challenges of climate change and the loss of vital chemistry for weed control, Fait says Tozer has developed varieties that are "vigorous and resilient to drought and heat stress". The company claims that during last year's drought, Tozer varieties topped the table in terms of stress tolerance and the delivery of gross and net yield for growers.
Going forward, Fait believes the development of varieties with novel shapes and stable sugar, and high dry matter varieties for the freezing and processing sectors presents many opportunities. "The category is relatively untapped from an innovation aspect," he says. "The development of robust, disease-resistant varieties will be crucial to overcome the challenges that lie ahead."
As previously mentioned, perhaps the greatest of these challenges is Brexit, and Tozer is particularly concerned about the delays and additional costs it may face if phytosanitary checks are needed to move stock seed from Europe to the UK. "There is still much talk about Brexit and the flow of seed into and out of the EU is important, not just to our customers but also to our suppliers," says Tozer's commercial director David Rogers. "Most of our seed production takes place in Europe and we will face delays and additional costs if we need phytos to get stock seed into Italy and France for seed production."
While Rogers says it is difficult to make any further contingency plans for Brexit, he stresses that his company wants to ensure it has seed in place before any hard Brexit to avoid short-term difficulties in exporting seed to Europe. Meanwhile, further afield the seed company is increasing its international marketing and sales as much as it can. "China is a huge market for some of our core products and, with a Chinese-speaking member of staff, we have made progress," says Rogers. This year Tozer also launched a company in Australia, Tozer Seeds Pacific, which it hopes will develop sales both there and in New Zealand.