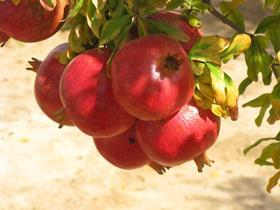 One of the big risers in recent years, pomegranates have established themselves on the aisles of most retailers with aplomb, as shoppers' habits get more adventurous. Their versatility, across sweet and savoury cuisines, makes them a favourite with home-cooking enthusiasts.
In the southern hemisphere the pomegranate boom has produced a steady rise in South African exports, where the UK makes up 15 per cent of its export market. Pomegranate volumes sent to Britain have risen by 375 per cent since 2012, shipping just under 248,500 cartons in 2019.
The Wonderful variety dominates, accounting for 70 per cent of exports, most of which come from the Western Cape, where a drought in 2018 caused huge damage across the region's horticulture sector.
"The carry-over effect of the 2018 drought could still be seen in fruit size and yield. These elements, together with the ever tightening of market standards, affected packouts negatively," says Carnel Geddes, chairman of Pomasa.
Drought is not the only challenge facing South African pomegranates, with other countries picking up on their potential and expanding output accordingly. "The competition and consistent supply from other southern hemisphere countries throughout the season also had a big influence," adds Geddes, with Argentina being a major competitor.
Growers also fear the False codling moth (FCM) as one of the biggest pest threats to pomegranates. "We are very happy to report that the pomegranate FCM management system which we had devised and implemented two years ago is proving to be successful. We cannot rest on our laurels though and so alternative methods to enhance the management of pest such as FCM are currently being investigated," says Geddes.
Facing these challenges head on has proven a fruitful strategy as the latest Pomasa data shows pomegranate exports leaped by a massive 44 per cent on last year's drought-affected haul, with a total of 1,676,160 cartons exported. The big rise in exports helps explain the strong 12.7 per cent rise in volumes sold at British retailers [Kantar]. Price inflation could also play a role in value growth as other markets like the Middle East overtook Europe for the first time in imports from South Africa.
"The Middle East is still a growing market for South African pomegranates with the biggest part of the 2019 crop exported to the Middle East (40 per cent), followed by the EU (33 per cent)," adds Geddes.