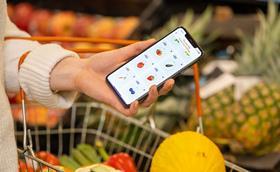 Sainsbury's 'Great Big Fruit and Veg Challenge' has returned to the Nectar app this month.
Running from Tuesday 1 to Monday 28 June, the challenge uses fun, interactive targets to encourage customers to purchase more fruit and vegetables when shopping at Sainsbury's, by rewarding them with bonus Nectar points that can be spent at partners including Sainsbury's, Argos and Habitat.
The in-app tracker sets each customer personalised fruit and vegetable targets to purchase in store and online throughout the 28 days, based on their typical shopping habits and the average portions of fruit and vegetables they normally buy. This will enable customers to earn points throughout the month as they head towards their grand total target, with the opportunity to earn over 750 points.
In this year's challenge, each customer will also have the chance to collect up to eight product badges by purchasing a number of portions of specific fruit and vegetables, such as strawberries, tomatoes, and broccoli. By earning a badge, customers will also receive additional bonus points.
In 2020, the retailer reported that over 450,000 customers signed up to take the challenge, with some 52.5 million portions of fruit and veg purchased by participating customers during the four-week challenge.
Analysis conducted in partnership with the Leeds institute for Data Analytics and School of Food Science and Nutrition at the University of Leeds showed that Nectar card holders who took part in the challenge took home an extra 3.6 portions of fruit and veg per week during the challenge. In the weeks after the challenge those who took part continued to purchase more vegetables, with weekly portions up by 2.7 compared to before.
The return of the challenge follows Sainsbury's new brand commitment to 'Help Everyone Eat Better' one plate at a time, which has replaced its longstanding 'Live Well for Less' motto. This change sees the supermarket encourage people to eat more in line with the principles of the government's Eatwell Guide, in response to findings that just over a quarter of people in the UK manage to eat five pieces of fruit or vegetables a day.
Mark Given, chief marketing officer at Sainsbury's, commented: "As part of our new brand commitment to Help Everyone Eat Better, we are bringing back The Great Big Fruit and Veg Challenge and giving customers the opportunity to earn bonus Nectar points when they purchase fruit and veg throughout June. We hope that by participating in the challenge, customers are inspired to pack in more nutritious food, while getting more out of their points balance. As a supermarket serving communities across the country, we have a responsibility to encourage our customers to eat delicious food that is healthier for people and better for the planet, and the challenge is one of the many ways we are doing this."
The challenge is available exclusively on the Digital Nectar app, allowing customers to monitor their progress through personalised updates in the app's dashboard. Those opting to take part will also receive inspiring recipe ideas, food waste and storage tips, sustainability and recycling information and more.