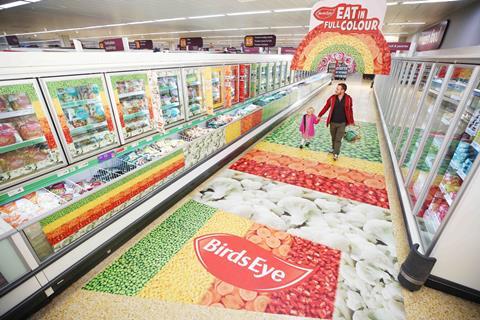 The frozen aisles of Sainsbury's Epsom store will see a colourful 'vegetable takeover' this month as part of a campaign to promote healthier eating.
The supermarket is working with supplier Birds Eye to encourage shoppers to add more frozen veg to their trolley in an initiative that will bring a radical remerchandising of the frozen aisle.
Running at the Kiln Lane store near Epsom from 9-29 October, the trial will see products grouped by colour in a rainbow layout to better showcase the variety of products available.
The campaign is part of Birds Eye's £6m marketing campaign, 'Eat in Full Colour', which highlights the benefits of frozen vegetables. Launched in August, it is centred on encouraging consumers to add more essential nutrients and vibrant colour to their plates with a mix of frozen vegetables.
The campaign playfully educates families to eat an array of vegetables for more flavour and texture on their plate, which will be reinforced by the vibrant materials utilised at the Kiln Lane store.

Steve Challouma, marketing director at Birds Eye, said: "Eat in Full Colour is our biggest frozen vegetable campaign to date and forms part of our ongoing mission to not only grow the category, but double the consumption of vegetables in the UK. Through our collaboration with Sainsbury's, we uncovered a great deal of shared values around this topic that underpin this activity.
'We want shoppers to realise the overwhelming benefits of using frozen vegetables; how they can be conveniently added to any meal, how many of the nutrients are locked in during the freezing process, and how they can help to minimise food waste."

Holly Callender, category planner for frozen at Sainsbury's, added: "This activity is seeking to disrupt shoppers in store and educate them about the vast range of high-quality products available in the frozen aisle. By relaying the entire frozen vegetable aisle to arrange products by colour, we are looking to help to grow the category by encouraging people to add new vegetables to their shop, which will help them add more goodness into their diets too."