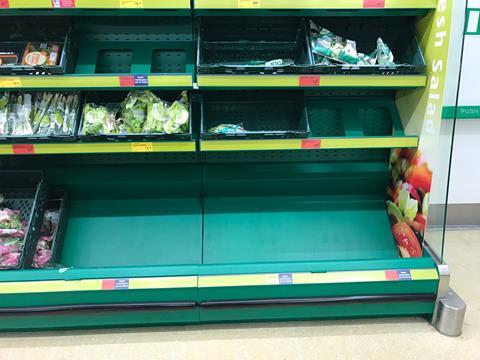 Sainsbury's has expanded rationing measures by limiting shoppers to buying a maximum of three of any grocery product.
Sainsbury's CEO Mike Coupe said they still had enough food for everyone, but was forced to act swiftly to ensure more people had access to food and toiletries.
In the wake of the coronavirus pandemic, shoppers have been "panic buying" certain products, with loo roll, hand sanitiser, and goods such as pasta and rice quickly becoming scarce as people prepare for self-isolation.
While supply of fresh produce hasn't been badly hit by the pandemic, empty shelves in fruit and veg are appearing as supermarket staff work overtime to refill the aisles.
"We still have enough food for everyone - if we all just buy what we need for us and our families," Coupe said.
"To help us get more essential items onto the shelves, from thisThursday 19th March, we will be closing our cafes and our meat, fish and pizza counters in supermarkets. This means we can free up warehouse and lorry capacity for products that customers really need. It will also free up time for our store colleagues to focus on keeping the shelves as well stocked as possible.
"I mentioned last week that we had put limits on a very small number of products. Following feedback from our customers and from our store colleagues, we have decided to put restrictions on a larger number of products.
'FromWednesday18th March, customers will be able to buy a maximum of three of any grocery product and a maximum of two on the most popular products including toilet paper, soap and UHT milk. We have enough food coming into the system, but are limiting sales so that it stays on shelves for longer and can be bought by a larger numbers of customers."