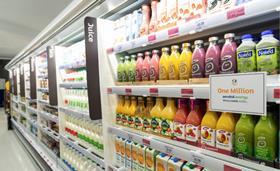 UK retailer Sainsbury's has announced plans to cut its use of greenhouses gases by 30 per cent by 2030 as part of its pledge to be net zero by 2040.
The supermarket said it will achieve the reduction by improving overall energy efficiency across its stores and supply chain. For example, it will install more energy-efficient fridges and LED lighting in its existing stores, while new branches will be designed to help minimise energy consumption.
Sainsbury's said it will also help suppliers develop and set their own carbon reduction targets, and will endeavour to help customers make more sustainable product choices.
The retailer said it worked with the Carbon Trust to develop measures to help it reach this latest goal.
"Setting bold science-based targets across our emissions strengthens our long-standing commitment to protecting the environment and tackling climate change," saidSainsbury's CEO Simon Roberts. "We are making significant progress on our road to net zero however we can't get there on our own. To make a meaningful difference to climate change we need to collaborate with industry, work closely with our suppliers and engage our colleagues and customers."
Over the past year, a number of energy-saving initiatives have been launched in Sainsbury's own operations, including installing its one millionth Aerofoilin its Battersea Park Local store, keeping fridges cool and aisles warmer and saving 15 per cent of the energy used by the fridge. And in July 2020, Sainsbury's became the first UK supermarket to switch to lithium-ion pallet trucks.
"As part of our strategy, we are improving the overall energy efficiency of our existing stores and depots, investing in innovative technology to ensure our fridges are as efficient as possible, reducing refrigerant gas and continuing to look at zero carbon alternatives for the delivery of goods," Roberts added. "We will also ensure that our new store designs are in line with the latest thinking to minimise energy consumption. We have one opportunity to get this right, so it is really important that we continue to be ambitious and innovate."
Sainsbury's announced its goal to become net zero within its own operations by 2040 in January last year, sparking a race to net zero among other retailers.