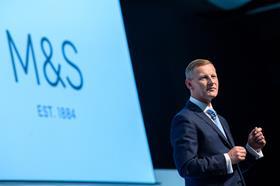 M&S has posted a strong set of half-yearly accounts as it rebounds from the impact of Covid.
The food and clothing retailer announced sales of £5.1bn for the 26 weeks to 2 October, up from the £4.1bn it recorded a year ago when clothing sales were badly affected by the pandemic. A more accurate comparison is the five per cent increase in sales versus 2019.
Pre-tax profits were £269.4m, up from £176.3m in 2019. Last year, the company suffered a £17.4m loss.
"Given the history of M&S we've been clear that we won't overclaim our progress,' said chief executive Steve Rowe. 'Unpacking the numbers isn't a linear exercise and we've called out the Covid bounceback tailwinds, as well as the headwinds from the pandemic, supply chain and Brexit, some of which will continue into next year.
'But, thanks to the hard work of our colleagues, it is clear that underlying performance is improving, with our main businesses making important gains in market share and customer perception. The hard yards of driving long-term change are beginning to be borne out in our performance."
Repositioned Food business
M&S reported a 10.4 per cent increase in food sales, together with improving margins on the back of a reshaped strategy. 'Alongside this, Ocado Retail benefited from a step change in the online grocery market and, following the opening of 3 CFCs (Customer Fulfilment Centres) and further planned capacity, will be well positioned to drive customer growth in the coming year,' it added.
In the 12 weeks to 3 October, food sales grew 16.9 per cent after adjusting for the adverse impact on the hospitality and franchise travel businesses, which are still recovering from the impacts of Covid consumer behaviour.
Compared with two years ago, M&S Food sales on retail parks were up 23.3 per cent, but sales in city centre stores were down 18.4 per cent.
As part of its strategy to broaden its appeal in food, promotions have been reduced and entry points made more accessible with the introduction of the 'Remarksable' and 'Fresh Market Specials' ranges. The 'Dine In' programme has also been relaunched and expanded.
Upbeat future
Rowe said that progress was being made through M&S' long-term plan. 'As we move from the 'fixing the basics' phase of the transformation, we are confident of our ability to drive shareholder value in the next phase,' he concluded. 'In the main businesses there is demonstrable scope for further improvement and the customer response to the transformation has been encouraging.'