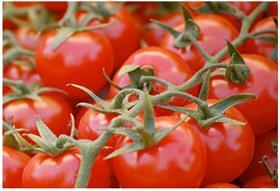 The Scottish tomato firm backed by herb giant Scotherbs and touted as "breathing life" back into the once-thriving Scottish tomato industry has gone into liquidation.
Clyde Valley Tomatoes (CVT) was established in 2012 with a three-year funding package of £100,000 from herb supplier Scotherbs, Clydesdale Bank and South Lanarkshire Council.
The deal, formed through a rebranding of one of the area's previously key tomato growers J&M Craig, was heralded as being the start of a revolution for the Scottish tomato industry, but has "not proved financially viable".
CVT director David Craig, said: "It is with much sadness that as director of Clyde Valley Tomatoes, I announce the appointment of Annette Menzies of William Duncan Chartered Accountants as provisional liquidator of the company.
"Our mission to put some life back in to the Scottish tomato was accomplished, albeit for just a few short years. I would like to take this opportunity to thank the many team members who have worked hard to bring our tomatoes to the marketplace."
Craig said the company has received "tremendous support" from consumers, customers and the media.
He added that any creditors will be contacted in due course, and no new investors are being sought.
Clyde Valley Tomatoes previously supplied Waitrose and Whole Foods Market, as well as Morrisons in partnership with Scotty Brand.