Tearless onion variety will return to Waitrose shelves six weeks earlier this winter in bid to capitalise on Christmas sales spike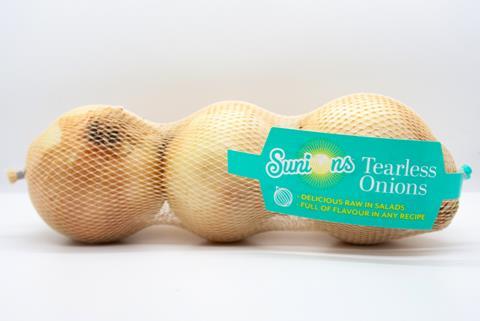 New tearless onion brand Sunions is set to hit Waitrose shelves six weeks earlier than last season after successfully extending the variety's growing period.
The mild, sweet-tasting variety was bred so that it doesn't reduce cooks to tears. And in its first growing season sales met expectations, according to BASF, which developed the variety and owns the brand.
Last season, Sunions were available at Waitrose from January onwards, but this winter sales of UK-grown crop will begin on 5 December.
"Rather than starting in January, we want to get Sunions into supermarkets before Christmas because shoppers generally trade up a bit and treat themselves during the Christmas period," explained BASF's consumer and customer manager for the UK, Nasir Ahmed.
The back end of the season will also be extended, with sales continuing through until June or July thanks to new production in Argentina, South Africa and Australia.
This will ensure Sunions can be enjoyed at the start of the summer when fresh produce consumption generally increases. The variety also has benefit of being suitable for summer favourites like salads and sandwiches thanks to its sweet flavour.
In addition to Waitrose, the brand has garnered interest from a number of other UK supermarkets following positive coverage in the trade and national press.
It looked like this would lead to new retail listings and a significant jump in production volume for the season ahead, but Ahmed says the cost-of-living crisis stopped play.
"Retailers decided they couldn't really afford to put an expensive product like sweet, tearless onions on the shelf when people were already struggling financially," he explained.
Nevertheless, Ahmed said he was keen to get the brand into other mainstream UK supermarkets, adding that talks were ongoing with a major online retailer.
British onion supplier Moulton Bulb is the brand's marketeer and UK producer, managing the variety's packing, quality and grower relationships.