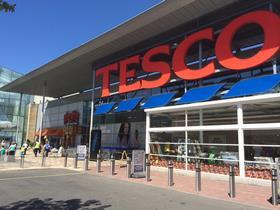 Tesco has reported a strong increase in profitability in its first-half results.
The supermarket leader posted group sales, excluding VAT and fuel, of £27.3bn, a 2.6 per cent rise. Adjusted operating profit was up a sizeable 40.6 per cent to £1.5bn.
The retailer pointed out that it has grown its UK market share, boosted customer satisfaction across all areas and expanded its 'Aldi Price Match' initiative to around 650 products.
It has also bolstered its digital performance, with online like-for-like sales rising 2.3 per cent in the past year and 74.1 per cent in the past two years. On-demand grocery delivery trials are progressing well, it added.
'Outperformed the market'
"We've had a strong six months; sales and profit have grown ahead of expectations, and we've outperformed the market,' said chief executive Ken Murphy.
'With various different challenges currently affecting the industry, the resilience of our supply chain and the depth of our supplier partnerships has once again been shown to be a key asset.
'Against a backdrop of profound change, Tesco has many unique advantages. The scale and reach of our store estate and online operations are unmatched in the UK. Our ability to reward loyalty through Clubcard enhances our relationship with customers. Our world-class food retail expertise combined with our strong supplier partnerships ensures we can offer our customers great value and quality, removing reasons to shop elsewhere.
'Together, these strengths mean that Tesco can anticipate and respond to changes in the market, meeting customers' needs better than anyone.'
FY profit forecast rises
Murphy said the chain's strategic priorities include staying competitive, accelerating growth and generating between £1.4bn and £1.8bn retail free cash flow per year.
Tesco now expects full-year retail operating profits to reach £2.5bn to £2.6bn.