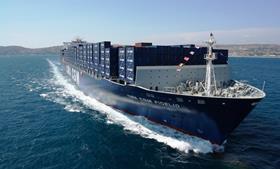 Shipping companies are leaving the British shipping registry because of uncertainty over Brexit and future commercial arrangements with the bloc, it has been reported.

Reutersreported that the number of vessels registered under the British flag fell from 1,315 (representing 16.5 million gross tonnage) to 1,229 (representing 10.5m GT) in the year to 31 May 2019.
Prior to the referendum major French shipping group CMA CGM was the largest owner of container ships under the British flag with 49, according to the news agency.
However, in light of Brexit and "to avoid any uncertainty in the period with our fleet status and regulations", the company announced it had decided to transfer its UK-registered fleet to other European countries.
The company's UK fleet was transferred to the French and Maltese flags on 1 March 2019, according to Reuters.
"This decision was taken after it appeared to us that the UK flag was excluded from the draft agreement envisaged between the UK and the European Union," the company told the news agency in a statement.
In the European Union all commercial ships must be registered, or flagged, with a certain country. This is partly to comply with safety and environmental regulations, but shipping companies in many "flag states" also have to pay corporation tax according to vessel tonnage rather than profit.
The departure of shipping companies from Britain's registry could therefore deal a blow to the UK's maritime services industry due to the tax revenues they generate.
The departures could also make it more complicated for the British government to gain extra space on vessels to help cope with possible trade disruption in the event of a no-deal.
Earlier this year, Britain's transport secretary Chris Grayling faced calls to resign after the government racked up a £50 million loss for cancelling contracts for extra ferries to import key supplies in a no-deal scenario. This included a £14m contract with a company that, in fact, owned no boats.