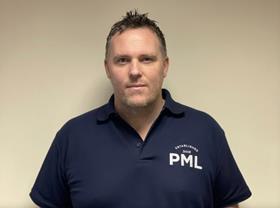 James Tinkler has been appointed site manager at PML's new satellite transport and logistics hub at Lympne in Kent.
Tinkler has spent the last five years as international planning manager for a company that specialised in the distribution of international imports and exports to and from the UK.
Prior to that, he worked for 20 years with a temperature-controlled logistics provider responsible for delivering road distribution and warehousing solutions to support the UK food supply chain.
According to PML, the newly created position at the firm's soon-to-launch Kent operation offers Tinkler the opportunity to draw upon his expertise, which includes setting up a brand-new distribution depot, but also offers significant scope for progression and development.
Tinkler will report directly to the main board of directors and will assume responsibility for an anticipated workforce of approximately 35 staff, which includes three dedicated transport planners. Recruitment at the Kent site is underway, with four customs clerks and six HGV drivers already in place.
Tinkler will be charged with ultimately ensuring the seamless 24/7 operation of all road freight operations at Kent, which will handle daily consignments of refrigerated food – for packing, loading, and unloading – with a planned 80-100 truck movements per day in the first phase of its official opening.
Of his appointment, Tinkler said: "I'm delighted to be joining PML, whose reputation for excellence is renowned within the industry. I have been impressed by the company's consistent ability to stay ahead of the curve and flourish, regardless of the challenging conditions that have prevailed over the last 18 months.
'The strong senior management team has a clear vision to ensure the long-term success of the business and I'm pleased to have the opportunity to feature within the planned growth and development of PML. In particular, I am looking forward to being associated with a number of pivotal initiatives with a genuine emphasis on driver welfare – something which has long been lacking in our sector.
'My job is to work with the team to establish PML Kent as the best facility in Kent – or even the UK – thanks to the planned superior driver experience; superb location; extensive transport and trans-shipment solutions and unrivalled customs expertise."