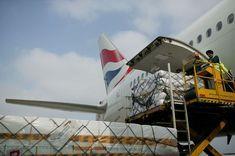 British Airways (BA) and Iberia Airlines have reached a yet-to-be-finalised agreement to merge, in a deal which could vastly streamline cargo haulage via airfreight.
The deal follows a prolonged period of negotiations between the two flight operators, who are looking to strengthen business after taking a huge hit during the recession with lower cargo and passenger numbers.
A new company, TopCo, is set to be created if the deal goes ahead, putting it head to head with Lufthansa and Air France-KLM as one of the largest airlines on the continent. The airlines anticipate a €400 million (£358m) saving after a five-year period.
BA will be the majority shareholder with 55 per cent of the combined firm, while Iberia will retain 45 per cent.
The proposed merger would have to be approved by the European Commission under competition laws and is likely to be completed in 2010.
But the deal could hinge on the size of the deficit in one of its final-salary pension schemes, which BA is downplaying.
The pension scheme issue, which BA has denied could be a "stumbling block", is unlikely to be resolved for some time, so Iberia and BA have agreed a get-out clause for the Spanish airline.
BA chief executive Willie Walsh told Reuters: "The merger will create a strong European airline well able to compete in the 21st century.
"Both airlines will retain their brands and heritage while achieving significant synergies as a combined force."
Antonio Vazquez, the Iberia Airlines chairman, said the airline could be one of the most important in the world as he reported a net consolidated loss of €16m for the third quarter, down from a profit of €30.4m last year.
He said airfreight traffic for the group had declined 19.3 per cent through the first nine months of 2009, although the decline was down less in the third quarter - 8.6 per cent tones per kilometre.