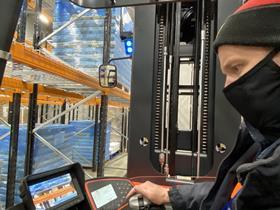 PML and FreshLinc's venture to operate a remoteHMRC / Defra-approved Border Control Post (BCP) and ERT (bonded warehouse) facility has finally been approved and is now up and running.
Completed ahead of Brexit, the global perishable cargo specialist partnered with transport and logistics company FreshLinc to run the operation at Fresh Linc's Spalding HQ, to enable a speedier movement of product from the ports and therefore delivering an extended shelf life of up to 48 hours. However there was a delay of over three months for the project to be greenlighted due to the pandemic.
The BCP, which sits on a 70,000 sq ft site, should have been effective from 1 January 2021 and represents a £400,000 investment. The facility includes a purpose-built 10,000 sq ft warehouse with the capacity to store 330 pallets and dedicated inspection areas for customs and Defra. Four new staff have been trained to ensure a round-the-clock service.
The two sides explain that the Spalding location is ideally placed for freight traffic coming out of Dover and Southampton docks and the move to set up a BCP away from the ports 'represents a solution to the delays and excessive queues which impede the onward movement of freight.'
PML sales director Nick Finbow said: "It is unfortunate that the official opening of the facility at Spalding was delayed but of course, we are accepting that we are all working under exceptional circumstances. We are delighted that we can now offer our customers the benefit of a safe and speedy transfer out of the ports which should ultimately deliver a minimum of 24-48 hours additional shelf life on perishable goods with no break in the cold chain.
'As a business PML has always demonstrated forward thinking and is proactive in identifying innovative solutions to any challenge which threatens to impede its ability to deliver the effective, seamless service for which it is renowned."