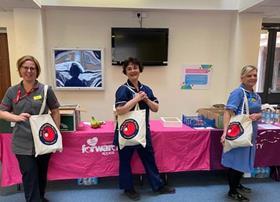 New Spitalfields Market has dug in to donate to a new food charity, setup to provide frontline NHS staff with food and fresh produce during the coronavirus crisis.
With the NHS under pressure like never before, Fuel Our Frontline was founded by barrister Michael Polak to provide goods and produce packages to hospital staff and co-ordinate food supplies to the frontline.
NHS frontline staff include doctors, nurses, and support staff such as porters and cleaners who are all working extensive shifts to fight the virus for all of us.
The 100 per cent voluntary Fuel Our Frontline team is made up of people from different professional backgrounds, including NHS staff who have first-hand experience of the difficulties faced by those working in our hospitals at this difficult time.
One of the volunteers leading the effort is Melanie Cooke, a solicitor. She says. "It has been reported to us by a number of frontline staff that they are having trouble accessing food and they are spending a huge amount of the time that they need for rest betweenlong shifts locating food to keep them going in their fight for all of us. This is not right or sustainable.
"Our objective is to get food to them as they are really struggling to get to the supermarkets, even at so called NHS shopping times. When they can get to the shops, often there is insufficient food as there is a general shortage of basic food items. Apart from the usual shortage of pasta, rice, eggs and toilet roll, the fruit and veg goes very quickly in shops too.
"This is most likely set to get worse according to press reports now coming out about the shortage of pickers to deal with the upcoming seasonal goods in the UK (and elsewhere no doubt)."
Fuel Our Frontline's efforts have started on a small scale, but hospital staff have already gratefully received fruit and vegetables from New Spitalfields market. As the crisis deepens though, the organisation needs help on a grander scale.
Whether it is through funding, providing food, or the use of specialist skills Fuel Our Frontline is on the lookout for support, with all funds raised and resources provided will be provided directly to our frontline NHS staff.
Below are further links for anyone interested:
#FuelOurFrontline
https://twitter.com/FuelFrontline
https://www.facebook.com/FuelOurFrontline
https://www.instagram.com/fuelourfrontline/