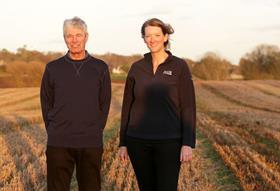 AHDB has issued an update on its Scotland-based Strategic Potato (SPot) Farm activity, which is moving into the second of a four-year programme.
Building on the work that was done over the 2020 growing season, the team consisting of AHDB, Scottish Agronomy, Soil Essentials and McCain will continue to look at the four key areas: PCN, Cultivation, IPM virus control and Desiccation, which are at the heart of the trial and research programme.
Jim Reid from Milton of Mathers in St Cyrus, Angus, is working with AHDB and industry partners to findsustainable solutions for the seed potato industry.
SPot Scotland host farmer Reid said: "It was a challenging growing season due to the weather. A very dry spring followed by a particularly wet autumn around harvest time. I am pleased with the results we have seen from the trials and it reinforces my belief that attention to detail is key to ensuring that we continue to supply clean seed potatoes."
New techniques trialled
Claire Hodge, senior knowledge exchange manager (arable) for AHDB, explained: "AHDB has been running trials across its SPot farm network since 2018 to look at alternatives to the use of the herbicide diquat which causes desiccation in potato plants. We are still learning more about the importance of the desiccation of a seed crop. This critical stage in seed multiplication has the potential to have large scale consequences in the following year's crop. We have seen that the choice of desiccation treatment, and how well it has been carried out, can make big differences to the quality of seed produced.
"We are looking at new techniques to control vigorous haulm canopy growth in potato crops. The desiccation trials we ran in 2020 looked at different methods of mechanical and chemical controls. We found that virus risk is increased from regrowth found after mechanical desiccation methods such as flailing. The timing of when you apply treatments is also very important. Small details such as treating the underside of leaves rather than the tops of the leaves has made a real difference.
"Our results show losing chemistry has had an impact at desiccation which allows late season infection on leaf growth. The desiccation trials have demonstrated that slower treatments have a higher level of virus and late-season infection is becoming more of a concern. With the introduction of a new regime, we want to highlight to potato growers that there is arisk of virus and disease threat if they do not follow an integrated approach to new desiccation methods."
Other significant outcomes of last year's trials were demonstrating that reduced tillage is an option, with the right conditions, but it needs a flexible approach, according to AHDB. Aphid control using cereal buffer strips and wildflower intercropping was shown to be commercially viable. And PCN testing at higher levels after harvest showed that areas at risk of being taken out of seed production could be identified earlier, which means potato growers can gain more time to implement earlier land management strategies.
Trials planned for the 2021 season include looking atPCN management practices and further IPM strategies to minimise virus risk in seed crops.Aphid virus control,aphid activity and levels of virus in the following crops will all be measured and monitored. The use of flower strips for intercropping will be trialled again, creating corridors to increase biodiversity which is useful for later season infection. And mulching will be looked at this season for the first time, using straw to reduce the contrast between the crop and soil. It is hoped that this will reduce the likelihood of attracting aphids to the field, AHDB concluded.