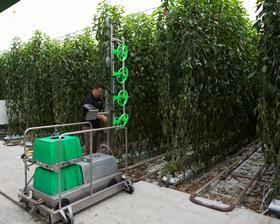 For those excitedly waiting for the agri-tech revolution to transform our food system with fully automated, robot-led farming heralding a glistening new future of eco-friendly abundance, spare a thought for the people working hard to make it happen. Behind every shiny new robot is a lot of dogged persistence and business graft.
One such company is Sprout Accelerator, launched in 2015 in New Zealand and following in the footsteps of the country's innovative agricultural history. Sprout Accelerator's Chelsea Millar says the company lives out the New Zealand ethos of a "number eight wire" mentality, a common phrase in the country referring to a multi-purpose brand of wire, used to fix any number of problems.
"We saw a gap in the market to help agri-tech entrepreneurs scale their business, developing their ideas and see if they are solving problems in the market," says Millar. "New Zealand presents quite a cool testing ground for these entrepreneurs to go global. We've always had the vision of going global and taking the companies global."
For those unfamiliar with the "accelerator" premise, the term gives a lot away. Sometimes known as incubators, their goal is to help other start-up companies through the developmental stage, upscaling them from often rudimentary ideas to commercial businesses.
"For us, an accelerator is six months in length, starting in February and ending in July and during that time we run it like a really intense business MBA-style course. The cohort of which there could be eight to 12 at one time come together four times during those six months for what we call underground events, where they go through 48 hours of learning on specific topics."
Sprout Accelerator also used to invest equity capital in the companies they nurtured, but Millar says they stopped in order to focus on the development side. "We found we were attracting a lot of people with great ideas, but didn't necessarily have a company that was formed, so we had to do a slight pivot and not put any money in."
Sprout Accelerator started life focusing on technical farm-level issues, before branching into the wider food industry. "We started out with traditional agri-tech, anything behind the farm gate, such as software and hardware for crop management and stock. Then we branched into the front half of the value chain in horticulture, such as robots and biotechnology.
"What we've done in the last two years is evolve and look at the whole value chain, from field to fork. Now we're starting to look at the future of food technology equation like packaging, future food items, alternative proteins. We're currently talking to a guy who has developed avocado milk, and that's the space we're moving into."
With a new cohort of start-ups set to be announced this month, previous examples of the companies to have passed through their ranks include Micropod,who developed a seedmat that grows microgreens in 14 days; Hectre, an orchard management software; and Hortworx, who build robotic bin fillers for the packhouse.
So is the world of agri-tech flourishing, then? "There's plenty out there, but it comes down to quality. We see a really good number of applications from all over the world every year," Millar responds. "We're getting over 120 applications in eight weeks, and we are seeing some really interesting ideas. We probably attract more ideas and prototypes than post-revenue companies at this stage."
The accelerator is underpinned by a consortium of investors alongside the state agriculture organisation, Agricultural and Marketing Research and Development Trust, covering the costs for the start-ups joining Sprout's programme. In December, Sprout Accelerator announced it was partnering with state-backed investors Callaghan Innovation, alongside New Zealand companies Fonterra and Gallagher, as well as Finistere Ventures and Israeli venture investor OurCrowd. It's a move that Millar says will see Sprout undergo some "significant growth".
While New Zealand's natural beauty is famous worldwide, its distance from global markets makes start-up capital more scarce than in the big finance hubs like London. "New Zealand is slightly different in that we don't have those funds available. Yes we have angel investors and, yes, there is some investment here, but because agri-tech has about a six to eight-year life-cycle to market, investment is a lot harder to come by because they are a much higher risk, so we find it really hard to attract outside investment.
"That early seed stage is just not available, which is why we rely a lot on government grants, or from Callaghan Innovation," Millar adds. "Most of our companies have to bootstrap their way to it. Others do as well, but it's a slightly longer road for Kiwi companies to get to market."
Another challenge for the company, indeed for everyone in agri-tech, is facing the mental barriers as much as the financial ones. "We're working with a really hard audience. The farming population is ageing, with an average age of 58-years-old for farmers and 62-years-old for growers. They are hard to get to adopt technology, and that's where the biggest barrier is still."
But that won't stop Sprout Accelerator looking far beyond the Pacific Ocean. "We're a lean team, and we have got our own scaling issues, but last year we decided to tackle some international companies and let them into the cohort, and open our eyes a bit more to the global ecosystem," Millar says.