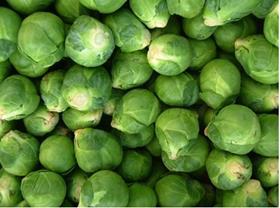 Brussels sprouts are more popular than pigs in blankets according to a new Christmas report by Tesco.
The retailer's new survey also revealed more people are serving vegan and vegetarian mains than goose at Christmas lunch, with 18 per cent of people favouring a veggie option over four per cent preferring the latter.
Tesco said that Christmas dinners are also getting greener, with more veg on the plate, in line with growing vegetarian and flexitarian trends.
One surprising stat showed that veg and carrots were considered more important to their Christmas meal (71 per cent and 66 per cent respectively), than pigs in blankets, although the latter still ranked as Britain's favourite trimming.
Its research found that over a quarter of all cooks will cater for alternative diets this year, with 5 per cent of 18 – 34 year-olds going vegan this Christmas, twice the national average. Brighton is the vegan capital of the UK with 12 per cent of Christmas meals being vegan.
The trend towards a plant-based diet shows no signs of slowing according to Derek Sarno, director of Plant-Based Innovation at Tesco: 'The increased awareness of sustainability issues around eating animal products combined with a more health-conscious consumer is driving plant- based diets mainstream.'
Alessandra Bellini, Tesco chief customer officer said: "We launched the Tesco Christmas Report to celebrate the many debates and rituals that make Christmas what it is for people up and down the country.
'Our research found that, by and large, we're still a nation of traditionalists – but with a third (31 per cent) of people mixing things up at Christmas each year, that is changing.
'We want the nation to know that, however they do Christmas, and no matter what they need, Tesco has them covered with great quality food and drink throughout the season, whatever their budget."
Farmers will have to work extra hard this year however to meet demand after a extremely dry summer led to warnings of winter veg shortages as growers were unable to plant in the dry soil.
Peter Thorold, of Thorold's Produce in Lincolnshire, who supplies sprouts to Morrisons, Aldi and Lidl, recently toldThe Mirrorthat the driest summer in his 50-year career has created a "crisis".
"There's going to be huge shortages. There will be a quarter less sprouts than last year. They've not been growing.
"Other vegetables are also in trouble. There's half as many potatoes as last year. Carrots and parsnips are the same, leeks are down. There was one period when we had 56 days without rain. I knew then the Christmas supply would be dented."