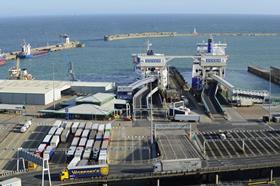 Logistics UK hasurged the government to work towards a sustainable solution to post-Brexit import formalitiesfollowing the announcementthat a range of checks on goods coming from the EU have been postponed for a second time.
Sarah Laouadi, head of international policy at Logistics UK,called on the government to guaranteethenew timetable will beadheredto,and thatthe new bordercontrolposts "will be inplace, with sufficient resources and political commitment to make it credible".
The delays follow warnings of severe disruption to the supply of food and other products in the lead up to Christmas.
Export Health Certificates, which were due to be brought in on 1 October, will now be introduced on 1 July 2022.
Physical checks at Border Control Posts, which are currently being constructed at sites across the UK, have been pushed back from 1 January to 1 July, as have Safety and Security declarations.
Meanwhile, the requirement for businesses to pre-notifiy authorities that certain goods are entering the UK from the EU will now begin on 1 January, rather than 1 October.
Customs declarations will begin as planned on 1 January.
Laouadiexplained thatthe trade body's members had already worked towards two deadlines for the introduction of theseformalities, andthese extradelayswillheap additional work on anindustry already working at full stretch.
"Thegovernmenthasrightlyidentified some of the challengescurrentlyfacing thelogistics industry,from the lastingimpact of thepandemic toincreasingmaritimetransport costs," she said.
"These, aswell as thedriver shortage,requirevigorousandurgent attention.However,this second change ofplanfor importcontrolswilladdto theuncertaintyandcreates extra re-adjustment costsforthe logistics industry.
"While there is relief insome quartersat the provision ofadditional time to preparefor newborderprocesses,another deferment will cause instability forbusinessesalready stretchedbythe impactofCovid-19.
"It also penalises those companies that invested timeand money toprogress their readiness journey as much as possible; these businessesnowneedthe Government to confirmthe lastdetails aboutborder facilities andsystems to be able to completethe crucial 'last mile' of their journey.
"The UK's supply chain with the EU is highly interconnected but it will be impossible to convinceour European supply chain partnersto do their part if the target they are aiming for is constantly changing."