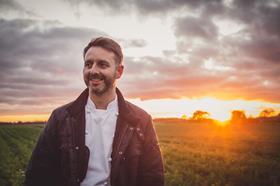 As little as 10 years ago, the idea of a restaurant's head chef having their own farm and bothering to grow their own fresh produce would have seemed mildly absurd. Vegetables were for the side of the plate, not the centre, and even the top chefs generally saw them as an accompaniment rather than the main event: the meat or the fish.
This has all changed now, of course, and not only are many of Europe's top chefs paying greater attention to how they source and prepare vegetables, they are also donning their gardening gloves and getting involved in their production. From pioneering Danish restaurant Noma to Simon Rogan's much heralded l'Enclume in Cumbria and The Black Swan in North Yorkshire, a rising number of Europe's top restaurants are trying their hand at growing their own veg. In the UK's competitive eating-out sector, where it has become increasingly difficult to stand out from crowd, this new approach is offering chefs a point of difference.
Mark Birchall is one of the latest British chefs to get in on the act. Having won two Michelin stars in less than two years at his fine dining hotel-restaurant Moor Hall, the Lancastrian is a young chef who's going places. And having worked as executive chef at l'Enclume for almost a decade, preparing produce from Rogan's 12-acre farm, it is perhaps unsurprising that he too wanted his own vegetable garden.
Moor Hall, which opened its doors in 2017 and serves produce-driven, seasonal British food, features an exciting range of vegetables on its menu. And some of the smaller, more unusual varieties on diners' plates are grown just a few metres from the table. Think Sweet Bell turnips, baby Varna leeks, Hildora beans, dainty micro shoots and cucumbers. Add to that Purple Haze and Atomic carrots, Apache radishes and round One Ball and Eight Ball courgettes, and you get a sense for some of the niche produce the chef has at his disposal.
"It's about having stuff that other restaurants can't get hold of," says Birchall. "And in the process, we're cutting waste. We'll never be 100 per cent self-sufficient – we're in the north of England, not the south of France – but at least at peak season we are 100 per cent self-sufficient in things like herbs and cresses".
This desire to throw away less produce is clearly important to Birchall, who sounds slightly exasperated when he talks about sometimes having to throw away half an order of cress because the distributor sits on it for two days, whittling away its already short shelf life. "Being able to use every part of the vegetable and grow the exact quantity you need is another benefit," he adds. "You don't feel like you're just ordering a case of vegetables and letting them deteriorate in the fridge."
What Birchall can't grow himself he sources locally wherever possible, making use of the plethora of good local growers that he is keen to support. "We have an incredible organic grower called Royal Oak Organics just a mile away, and we use a company near Southport called Flavour Fresh that supplies our tomatoes," says the chef. "The soil is very dark and sandy round here, so you'll see all sorts of veg out in the field – kales, kohlrabis, all the brassicas, leeks, sweetcorn, courgettes, beetroots, potatoes, carrots. We have growers all around us."
The main reason behind this local sourcing approach is simple: getting hold of produce that's as fresh as possible. But Birchall is also passionate about giving business to local growers and championing Lancashire produce. "People are increasingly looking at what's being grown around them rather than just buying from Spain or France or Italy," he enthuses. "Hopefully this will help British growers."
Sourcing locally is a habit Birchall first developed not at l'Enclume but a previous employer, Northcote, a Michelin-starred restaurant near Blackburn. "Northcote is heavily regional," he says. "I suppose that was one of the driving forces encouraging me to support local growers as a chef." At Moor Hall, Birchall tries, as much as possible, to buy direct from growers, rather than through a catering supplier, because he gets the produce at its fresh best, he has full control over it, and it allows him to cut down on waste. "You're not ordering a case of leeks and then rejecting half of them because they've been sat around in the wholesaler's store room for a week," he says. "That's not great for waste or economy."
This careful approach to running the business and sourcing the best ingredients has undoubtedly been key to Moor Hall's continuous success to date. Since it opened in March 2017, the restaurant has won a string of awards, picking up two Michelin stars, five AA rosettes, an 11th place ranking in the Good Food Guide and a top six finish in the National Restaurant Awards top 100.
While Birchall says accolades are not the driving force – "I just want to make the guest experience better than it was the day before" – awards seem to be something he craves. The chef answers without hesitation that the proudest moment of his career so far has been winning two Michelin stars.
"The accolades are definitely an encouragement," he says. "It's a real reward for myself and all the people that work extremely hard here to give an ultimate guest experience". Would he like a third Michelin star and ten out of ten in the Good Food Guide? "Course I would," he says. "You want to be number one in any list and I think as long you've got aspirations to be the best you can, everything else should follow."
Some things are more important than awards, however, and Birchall emphasises that although the accolades have added pressure to continue to perform as a chef, his greater responsibilities are to his staff and guests. "We're giving out about 100 payslips a month so there's a responsibility for that, and there's a responsibility to your guests," he says. "They come and want to feel like they've had an experience they're not going to have anywhere else."
Birchall's point about doing well by his staff is an important one given that staffing in the restaurant sector can be a challenge. "I'm not sure if we have younger generations coming into the industry like we used to," says the chef. "I don't know if there's the same work ethic in younger people any more, but the industry's changed a lot over the last 20 years and it's become more accessible. We went through a phase a few years ago where it was very fashionable to be a chef and that's kind of come back now."
Birchall notes that his own desire to become a chef was influenced not by his family background, but by an impressive batch of emerging TV chefs, whose shows inspired him to follow in their footsteps. "My upbringing was pretty standard – fish fingers and chips, spaghetti bolognaise, those sorts of things," he says. "There was definitely no influence that way. But when I was about 15, TV cooks were starting to appear, and at that time they were good chefs." In particular, Ready Steady Cook's Paul Rankin, Nick Nairn and Brian Turner caught the young Lancastrian's eye, encouraging him to find some work experience at a local hotel. "From there I met the right people who encouraged me," he says.
Labour sourcing challenges will greatly intensify, of course, if freedom of movement is curtailed after Brexit. A report by KPMG for the British Hospitality Association revealed in 2017 that 75 per cent of waiting staff in the UK, 37 per cent of housekeeping staff and a quarter of all chefs are from the EU. And with the UK economy approaching full employment, the report warned that there are no ready pools of domestic labour to dip into.
Nevertheless, there are other reasons to be optimistic about the future of the UK restaurant sector, Birchall believes – not least when it comes to fruit and veg. "I think the fresh produce is getting better," he says. "Chefs are increasingly buying for flavour, which is fantastic. People want quality produce, they want something with a story behind it, and they want provenance."
As Birchall pushes for a third Michelin star, the likes of Simon Rogan, Tommy Banks and Mark Birchall are great examples that if you know what you're doing, there are few better ways of delivering these things than by growing the produce yourself.