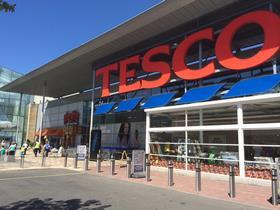 Tesco has reported a strong increase in sales for the past year, despite Covid-19 hitting its profitability.
The supermarket leader reported group sales of £53.4 billion for 2020/21, a 7.1 per cent increase, with UK and Irish sales rising 8.8 per cent. Group operating profit before exceptionals and amortisation, however, was £1.8bn, a 28.1 per cent decline on the year before.
'While the pandemic is not yet over, we're well-placed to build on the momentum in our business,' said chief executive Ken Murphy. 'We have strengthened our brand, increased customer satisfaction and improved value perception. We have doubled the size of our online business and through Clubcard, we're building a digital customer platform. Sustainability is now an integral part of our business strategy andwe'redoubling down on our efforts to reach net zero.'
For customers, Tesco said it had doubled UK online capacity in just five weeks, strengthened its Price Match guarantee against Aldi to 500 lines, introduced Clubcard prices, and launched a new commitment to increase sales of healthy products to 65 per cent by 2025.
On the supply base, it pointed out that its group supplier viewpoint reached its highest-ever score of 85 per cent, it has cut 200,000 tonnes of food waste from operations across the group, and it adapted its Booker retail offer to meet changing demand.
Looking forward, the retailer said: 'Whilst we expect some of the additional sales volumes we have gained this year in our core UK market to fall away as Covid-19 restrictions ease, we expect a strong recovery in profitability and retail free cash flow as the majority of the additional costs incurred as a result of the pandemic in the 2020/21 financial year will not be repeated.'