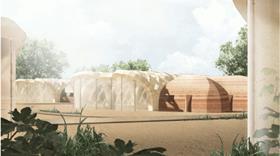 An architecture student has designed an inflatable greenhouse made from shellac and bamboo to help communities in Jaipur, India, grow their own food supplies, reports the University of Westminster.
Eliza Hague's designs were inspired by nature and completed as part of a University of Westminster Master of Architecture course, the college said.
Her origami-style greenhouse concept uses bamboo beams and a paper-like covering made from locally-sourced bamboo, coated in shellac, a natural tree resin, to make it weather-resistant.
The design aims to offer growers in Jaipur a more sustainable alternative to the polythene sheeting most commonly used for greenhouses in India, which needs to be replaced annually and creates excessive plastic waste, Hague said.
Added to that, the greenhouse beams can be collapsed and transported as flat objects, then inflated with air and covered with the bamboo-shellac material to form the greenhouse dome, she said.
The Mimosa Pudica plant, which closes its leaves in response to danger, inspired the inflatable origami hinges of Hague's greenhouse project, the report said.